EXCLUSIVE: Mike Johnson won Speakership by promising to ban AOC's 'pull my finger' gag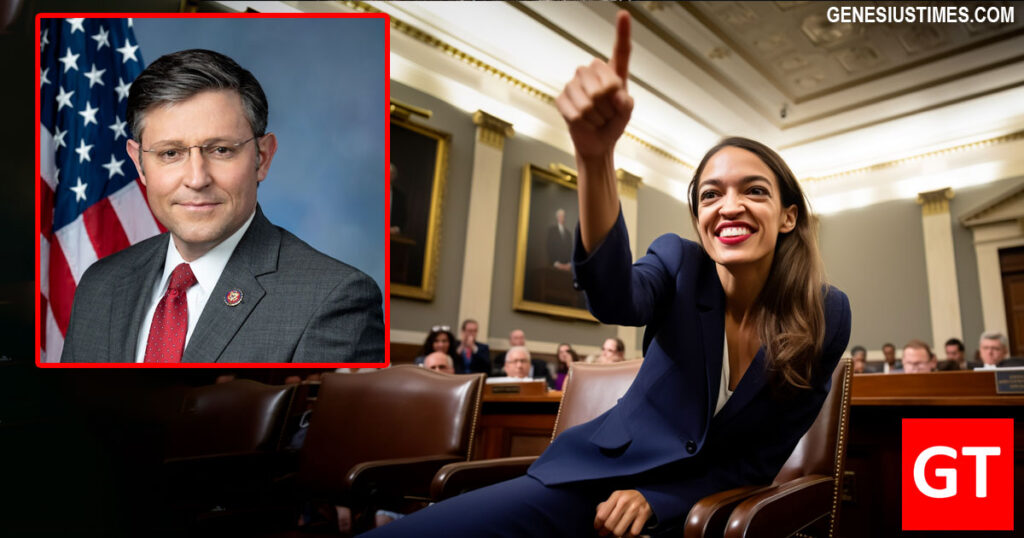 Washington, D.C. – In a surprising turn of events, newly elected Speaker of the House Mike Johnson has made it abundantly clear that he's not here to entertain. In his quest for order, decorum, and an air of seriousness within the hallowed halls of Congress, Johnson has pledged to banish a longstanding tradition of comedic relief on the House floor: Alexandria Ocasio-Cortez and Eric Swalwell's 'pull my finger' gag.
For those unfamiliar with this House tradition, it's a light-hearted moment of levity in which the New York or California Congresswoman invites fellow representatives to pull her finger during debates. As her colleagues have discovered, this often results in a devastating flatulant and a good-natured chuckle.
Speaker Johnson, known for his no-nonsense approach to politics, views this lighthearted jest as a distracting disruption in the solemn proceedings of the House. During his acceptance speech, Johnson stated, "The American people sent us here to address their most pressing concerns, and I am committed to focusing on the important issues at hand. We must put an end to these childish antics."
While some members of Congress are disheartened by Johnson's decision, others believe that his quest to silence the 'pull my finger' tradition reflects a genuine desire to enhance the dignity of the House floor. Rep. Ocasio-Cortez, on the other hand, couldn't resist a playful jab in response, tweeting, "Speaker Johnson, you really do need to lighten up and embrace the humor! A well-timed 'pull my finger' is an art form."
It remains to be seen how Speaker Johnson's stance on this gas-passing gaffe will shape the atmosphere within the House. For now, it's clear that he is determined to prioritize business over belly laughs, even if it means putting an end to one of the quirkiest congressional customs in recent memory.

About Author