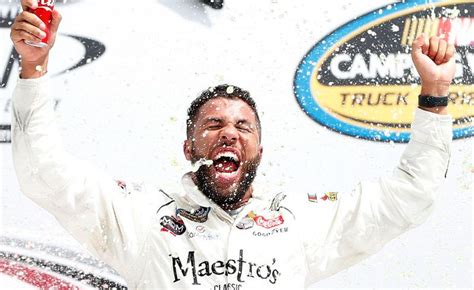 CHARLOTTE—National Association for Stock Car Auto Racing (NASCAR) has given the mulatto driver Darrell Wallace Jr. aka (Bubba Wallace) his first ever win in reparations for slavery despite his placing 14th. It's latest move by the racing league to appease the newest communist woke movement Black Lives Matter.
Not only was Wallace able to remain employed despite the racial hoax (aka noosegate), but he has been given his first win. NASCAR has promised to give Wallace the championship if he comes up with another fake hate crime.
NASCAR has also implemented other changes to the sport following the horrifying hoax.
Black Lives Matter will be painted in the middle section of the racetrack from start to finish. Drivers will have to avoid this section of the track or be fined for vandalism. There will be no ropes, chains or other stringed items of any kind on garage doors. Manual opening of garage doors will have to be done via stepladder or stick or similar methods. All of the racing flags will be black. Some changes regarding timing will also be added. After each lap, audience members will be required to sit through a two hour diversity training seminar done by the revisionist history organization known as the 1619 Project. A tithe bucket will be passed around for required donations to the Race Hustler Reparations Fund. Any fire that occurs on the racetrack will no longer be handed by a regular fire crew. Instead, fire incidents will be handled by The Reverend Al Sharpton, who has a experience in dealing with fires such as the one at his campaign office several years ago.
In addition to appeasing the Black Lives Matter/Antifa agenda, NASCAR has also agreed to appease the Bill Gates Foundation's Mark of the Tech Beast Agenda by requiring all NASCAR fans to take the COVID-19 vaccine.
Proof of taking the vaccine will be required in order to attend and contact tracer information will be given over to all government agencies foreign and domestic. In compliance with the climate change agenda, beer will no longer be served as brewing creates a carbon footprint. Veggie Smoothies will be sold as a substitute drink for $20 an ounce.

About Author