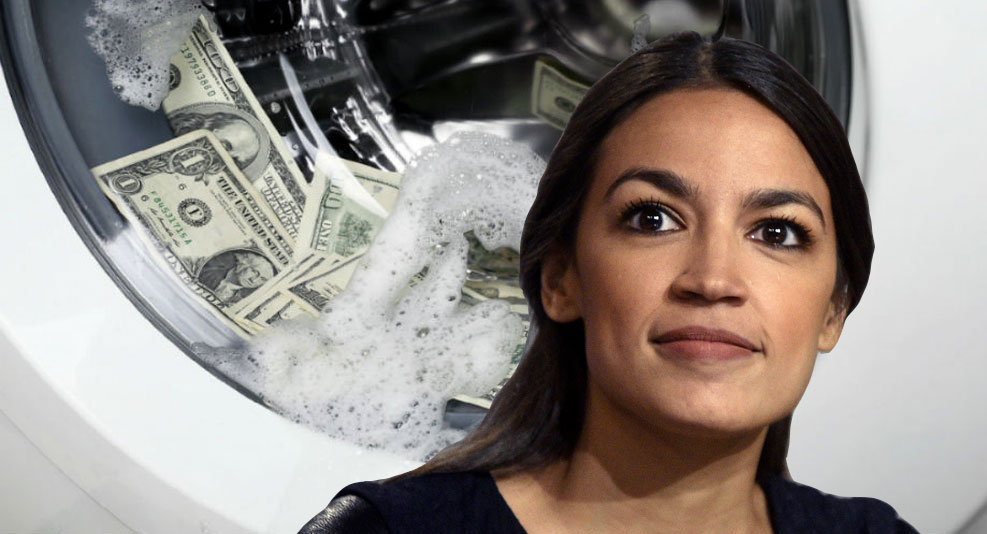 Visionary intellectual and United States Representative Alexandria Ocasio-Cortez of New York has made a name for herself in her first weeks in Congress focusing on the environment. Now, the wildly popular democratic socialist is turning her wisdom to finance.
After Ocasio-Cortez's campaign manager Saikat Chakrabarti was charged with funneling over $1 million in political donations into two of his own private companies, AOC is defending the allegations of money laundering.
"Money laundering is a fine activity–and it's actually necessary these days. Have you seen how many germs are on money?"
"We owe it to our children to create a country with clean money that's free of germs. That's why we're going above and beyond what Chakrabarti did and we are creating a federal agency dedicated to money laundering."
The agency will be based out of the US Treasury, which has facilities throughout the country. Money already comes in to the facility if it has been severely damaged. Now, cash and coin will be making a trip through the federal money laundry every year.
"I personally don't carry cash because I'm in a lot of debt and stuff," Ocasio-Cortez said sagely, "but this will be a boon to everyone who does carry money in their pockets or purse. You can call it a New-Green Deal," she said and laughed hysterically.
Experts say there are other benefits to money laundering.
"I've heard we might even be able to eradicate smallpox, syphilis, and other dangerous diseases because they're transmitted through dirty money."
Ocasio-Cortez responded to critics saying, "If you don't like the New Green Deal, then why don't you come up with your own stupid solutions to fake problems? We're in charge now and you do what we say!"

About Author