Planned Parenthood now offering a FREE Golden Globe award with every abortion purchase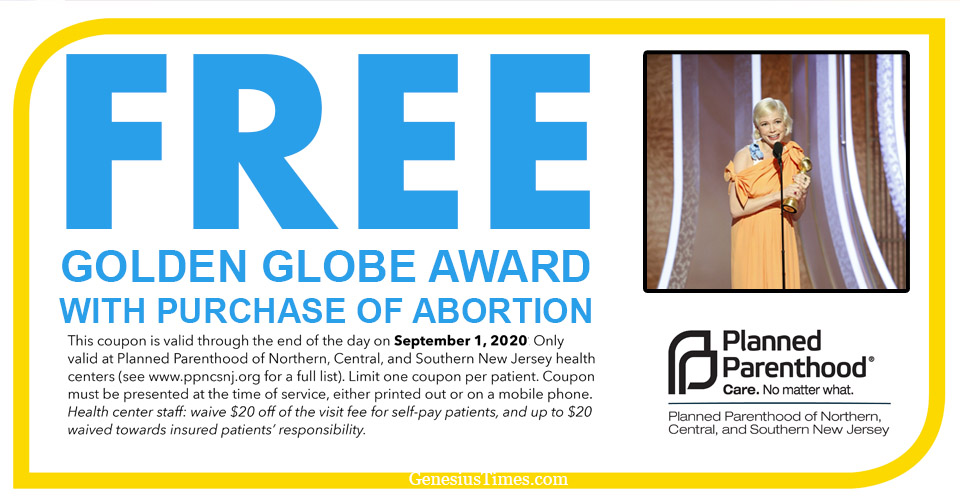 After Michelle Williams brought the house down at the 77th Annual Golden Globe Awards Show by explaining she killed her baby for her 2020 award, Planned Parenthood has launched a promotion to capitalize on the touching moment.
Planned Parenthood facilities across the country will now be giving away from Golden Globe awards with the purchase of each abortion. They're also giving away three awards for each killing of twins or triplets.
"It was such a touching moment," Planned Parenthood CEO Lou Siffer said at a press conference announcing the promotion. "We just had to capitalize on this and thankfully the Hollywood Foreign Press is on board too!"
Williams focused her acceptance speech on the fact that she couldn't have done what she's done in her career without killing her innocent children:
I've tried my very best to live a life of my own making, and not just a series of events that happened to me, but one that I could stand back and look at and recognize my handwriting all over—sometimes messy and scrawling, sometimes careful and precise, but one that I had carved with my own hand. And I wouldn't have been able to do this without employing a woman's right to choose: to choose when to have my children, and with whom
Other promotions are in the works.
"We're also considering offering 30 pieces of silver in exchange for an abortion," Siffer added.

About Author