Protestors offended by exclusion from 'Victim of the Year Awards'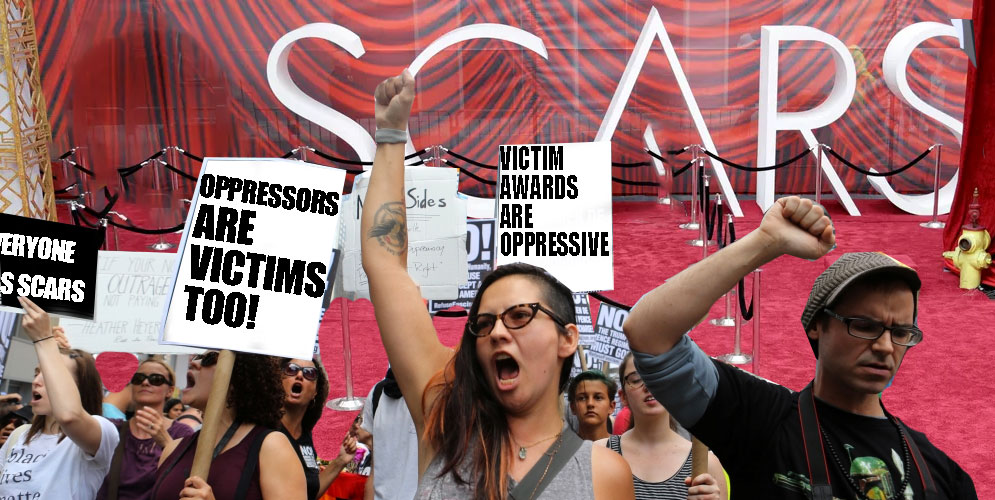 The American Hardship Legal Center (AHLC) has announced the highly anticipated nominees for its Victim of the Year Awards that will be presented on February 10 in Los Angeles. The prestigious awards, presented each February, "recognize and celebrate those most oppressed or victimized persons, animals and non-living things that have faced extreme hardship of a physical, emotional or other nature due to offensive actions or words." Past winners have included former President Barack Obama for being constitutionally prohibited from a third term of office and Hillary Clinton (two-time winner) for being married to Bill Clinton (1998) and for her failure to win the presidential election (2016) despite winning the popular vote.
Winners in various categories are presented with 12-inch statuettes made of rusty steel in the form of a genderless person with shackled hands and feet. The rust of the award represents the oppression of metal by water. The awards are commonly referred to as the "Scars," a play on "Oscars" that pays homage to the skin disfigurement imposed upon countless victims over centuries. Like the Academy Awards of years past, the ceremony will be held at Grauman's Chinese Theater on the Hollywood Walk of Fame, though the venue will be renamed "Grauman's Asian Theater" for the event, so as to be (somewhat) more inclusive.
Categories for award include persons, animals, and non-living things/concepts as well as the new "emerging victims" category that includes people who do not yet know they are victims. A notable nominee in the animal category is the "emotional support peacock" that made headlines last year when it was not allowed on a United Airlines flight. While the peacock's companion has been widely recognized as a victim of the incident, the animal is now being acclaimed for its having faced detention in an airport and its involuntary servitude to its "owner." Efforts are currently underway to find an "emotional support human" to provide care to the peacock as it undergoes the long process of healing from this traumatic event. Viewers will have to wait and see if a possible win at the awards show provides any consolation.
Despite the popularity of the Victim of the Year Awards, the event, by its very nature, engenders feelings of victimhood among many who feel excluded from nomination or award. The existence of only one winner per category seems likely to result in many losers. Asked to comment on the fairness of this, AHLC spokesperson Anela Braxbury said, "While it is unfortunate that there will be non-winners, the inherent unfairness of the system will surely add to the case for such people, groups or things to be nominated for Victim of the Year next year to the extent they feel victimized by the AHLC." Unmoved by this rationale, a long list of protesters have come forward and are expected to picket outside the ceremony. Included in this excluded group are penguins, zebras and panda bears whose being both black and white has made them difficult to categorize for oppression on the basis of color. Pandas in particular, although disproportionately held in captivity in zoos worldwide, have enjoyed such high esteem from being loved by millions of people that they are viewed as already having been "rewarded" for their "unjust incarceration."
Certain humans, too, are feeling victimized for not being recognized as victims. "Female" actress Gwenith Goldsmith, who regularly "earns" seven-figure paychecks for her role in blockbuster movies, claims to have been snubbed by the AHLC as she has not received a nomination for being a victim of the gender pay gap. Ms. Goldsmith exclaimed, "I refused a salary for my Oscar nominated performance in the critically acclaimed 'Blood of a Different Vein' but did not even get recognition for the clear, gender pay gap between myself and the male cast members!" She elaborated, "Their millions compared to my zero salary represents an infinite disparity even if my agents negotiated this into my contract at my direction." The AHLC responded with a statement that, "Self-victimization is not yet a category for award but is under consideration for next year's ceremony."
A surprising nomination in the "emerging victims" category is Chad Nicholson, 38, a lawyer and Christian from Plano, TX, who might normally be perceived as a beneficiary of privilege, not an oppressed, victim. Despite being a part of what the AHLC recognizes as a "hate group," he himself is being acknowledged for victimhood. The nominating committee recognized that Mr. Nicholson, "though unaware of the wrongs being committed against him, fell victim to a lifetime of cult-like indoctrination into Christianity through brainwashing by parents, peers and pastors." Though considered an oppressor himself, due to belief in such notions as the "difference" between male and female and that marriage should only be between one (biological) man and one woman, he is being recognized for falling into such a life through no fault of his own. When asked how such a beneficiary of white, male, privilege could be nominated for such a prestigious award, Ms. Braxbury explained, "This year we wanted to include an under-represented group so as to show that everyone can be a victim, even if they don't realize it." Some speculate that this may be motivated by backlash the AHLC has faced from conservatives. In response to such criticism, the AHLC self-nominated itself for Victim of the Year for its being hated and accused of actually being the type of "hate group" it accuses others of being.
Other nominees for Victim of the Year in the various categories include the following:
The climate, for being changed, against its will, by humanity

Rep. Alexandra Ocasio-Cortez (D-NY), for the thousands of memes disparaging her intelligence

Bulls, for cultural and nominal appropriation by pit bulls

The media, for its news being labeled as "fake"

Aliens, for always being stereotypically depicted as green with oblong heads and "superior" intelligence

Al Gore, for his predictions regarding global warming having not come true

Day, for having been regularly, relentlessly and systematically extinguished by night (note that representatives for night, in response, have voiced concern that it is not being recognized for similar encroachment on its time by day, and for concern that it is being overlooked due to its color)

The Academy Awards, for actor and comedian Kevin Hart's refusal to host their awards show

Already a front runner for next year's Victim of the Year Award, Starbucks CEO, Howard Schultz is expected to be nominated for his "potential" to lose the 2020 presidential election as an independent candidate. Such anticipation is viewed as a nod to the Nobel Peace Prize for 2009 awarded to President Barack Obama before he did much of anything.

The center is continuing to accept suggestions for additional nominations and they can be provided in the comments below.

Correction: Note that a previous version of this article incorrectly referred to Ms. Braxbury as "Angela Bradbury," however, she legally changed her name to Anela Braxbury in order to remove reference to Christian-centric "angels" and the male-normative "Brad."

About Author