STUNNING: Chet and Jabba the Hutt cover SI 2022 swimsuit issue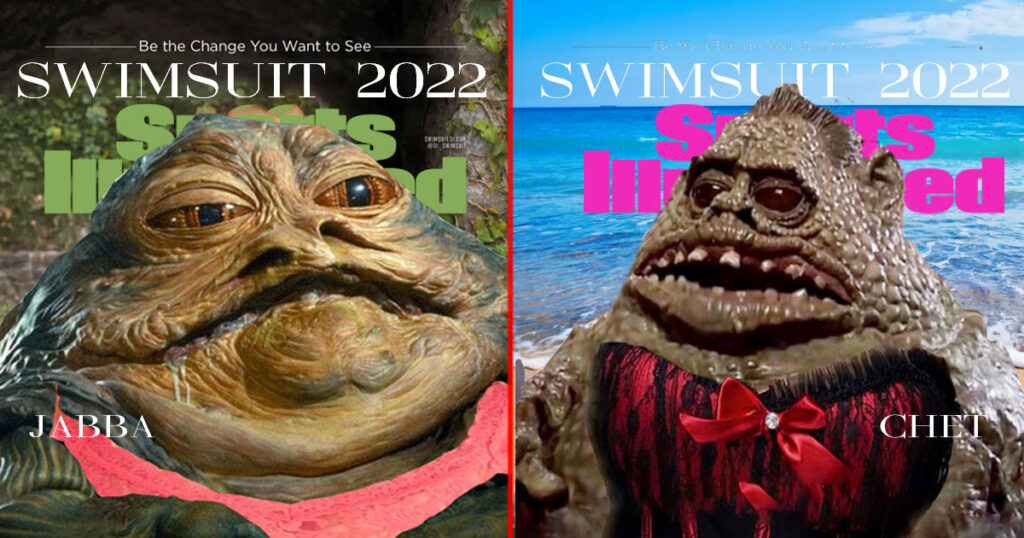 US—Chet and Jabba the Hutt have reached new career peaks: Sports Illustrated Swimsuit issue cover star.
"It's hard to even process or say out loud because I still can't believe it," Chet, 63, says of his cover moment. "It truly shattered the ceiling of what I knew to be possible for myself. I'm eternally grateful."
Chet has taken the fashion industry by storm over the past year. After making his SI Swimsuit debut in 2021, he appeared on the September 2021 issue of Vogue, shot a Victoria's Secret fragrance campaign, landed a solo cover of Human Turd Fancy and even launched a music career of 100% fart noises.
Jabba the Hutt is a little more established so the SI Swimsuit cover isn't a huge break but still welcome in a world that still succumbs to the patriarchal notion of "beauty".
"Collaboration with SI Swim is a no brainer for me — they aren't afraid to push the boundaries of what used to be normal for the media," Chet told Genesius Times of working with the iconic brand. "I think we both have the same intention. We want people to feel good in their skin. We want to be on the frontline of change in the industry."
"The journey we've been on — to break out of the mold the world put us in — may sound familiar. It's certainly familiar to the women we've chosen to be our cover models: Chet and Jabba the Hutt," MJ Day, Editor in Chief of SI Swimsuit, said in a statement. "In his first year of being in the spotlight, Chet is coming into who he is and taking on the responsibility of what he stands for."
This is truly stunning and brave.