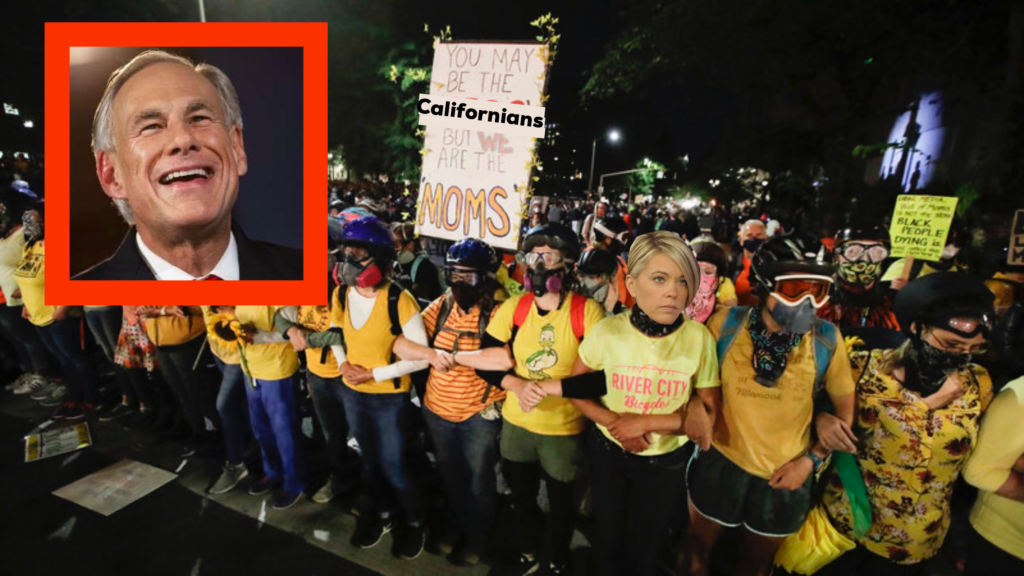 "A great idea is a great idea!" Texas governor Greg Abbott shouted as he watched the "wall of moms" separate federal agents from a gang of mischievously violent overgrown children. Abbott was so ecstatic about the "wall of moms" that he immediately dialed up the Texas border control czar with a "firecracker idea."
"We will station an impenetrable line of Texas moms across the northwestern border of Texas to keep those pesky liberal California immigrants out." Abbott said giddily as he unveiled the plan to an unsuspecting media. This brings a whole new meaning to the phrase "Build the Wall!"
I must admit, I was initially a skeptic of the "wall of moms" but Governor Abbott managed to convince me. With an old VHS deck and lighting quick rewind and fast forward features, he was able to run the tape of the Portland protestors being protected by their mommies.
Rumor has it Californians are already freaking out about Abbott's plan. While Governor Gavin Newsom continues to terrorize the state of California with lockdowns and exorbitant tax rates, his citizens have been flocking to Texas at alarming rates, but the Lonestar State has had enough.
The plan is innovative and President Trump is watching the event closely for a potentially cheap alternative to expensive wall material like rebar, concrete, and steel. A "wall of moms" could be the great remedy to many of the nation's problems.
For now, I am waiting in anticipation to see how this "wall of moms" keeps one of the great parasites known to the Lonestar state—The California Liberal—on the other side.
Thank you Portland for the ingenious idea.

About Author