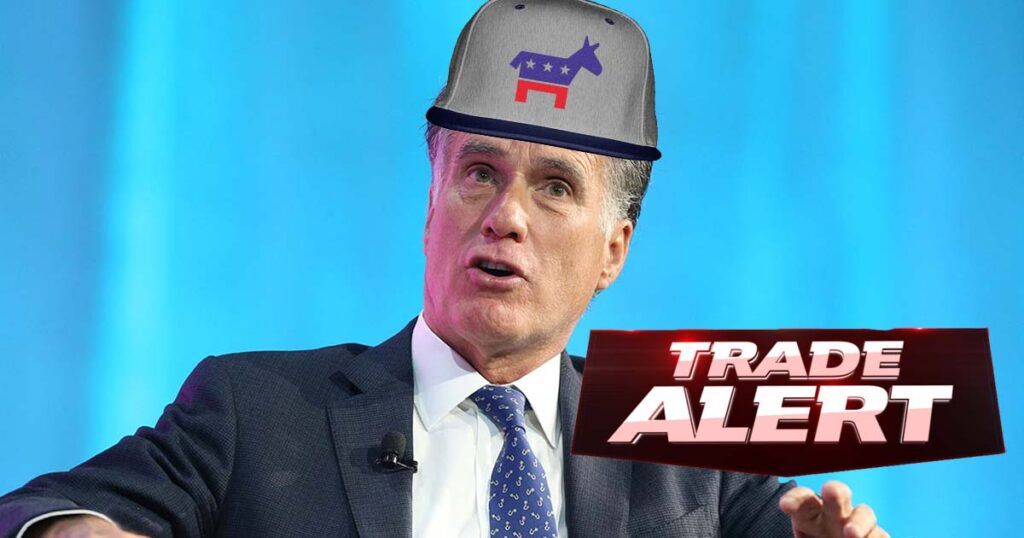 Democrats in the senate announced a blockbuster trade Monday, noting that they obtained Utah Senator Mitt Romney from the GOP in exchange for cash and an intern to be named later. Romney will cross the aisle immediately and caucus with the Democrats as early as Tuesday morning.
Democratic majority leader Chuck Schumer said the Democrats are excited about this addition to their roster.
"We've had our eye on Romney for a while," Schumer told reporters outside the Senate locker room. "It's not every day that a senator with four years left on his contract becomes available in the trade market, so we jumped at the chance to snag him!"
Minority leader Mitch McConnell said the trade made sense for the GOP as well. "As you know, we're in the process of rebuilding our roster," McConnell said. "Mitt was more of a liability than an asset for us, so we decided to let him go while he still had some trade value. We think the cash return will prove useful as we plan for the 2022 draft…er, election."
Romney said he has dreamed of playing exclusively for the Democrats for many years. "I've always been something of a political switch-hitter," he noted as he arrived in the Democrat clubhouse. "I'm excited to see how my career will take off once I'm playing exclusively from the left."
At press time, McConnell said the GOP is still actively trying to move Pat Toomey off of their roster as well, but that he hadn't found any takers for the PA senator.