Beto's security detail to use only NERF guns from now on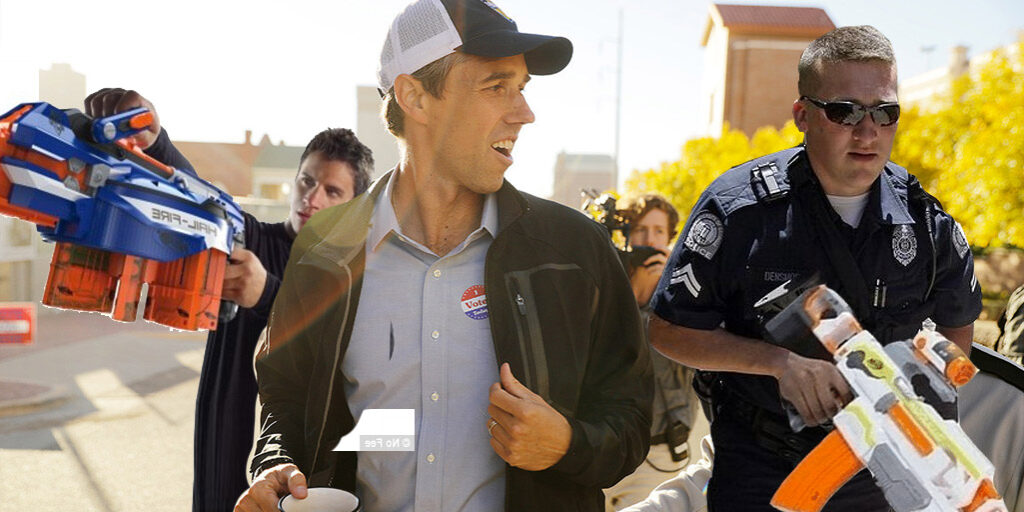 Call him what you may, a joke, a puppet, or vanilla Obama, but you can't call Robert "Beto" O'Rourke a hypocrite. That's because after the presidential candidate said, "Hell yes we're going to take your guns!" threatening to violate Americans' Second Amendment right, he instructed his security detail to only use NERF guns to protect him.
"I'm putting my money where my mouth is, which is different because that's usually where my foot is," O'Rourke said in a press conference. "You shouldn't have guns and so shouldn't my security detail."
The latest ploy by the O'Rourke campaign occurs in the wake of his brazen threats of tyranny and subsequent fall in poll numbers.
"This isn't about poll numbers. It's about doing the right thing. If you can't defend yourself with NERF guns, you don't deserve to be in public," O'Rourke added.
The specific weapons the security team are using is the Nerf Rampage N-Strike Elite Toy Blaster with 25 Dart Drum Slam Fire & 25 Official Elite Foam Darts.
Several leftist groups have come out against O'Rourke for even allowing security guards to carry NERF guns as they send the wrong message to the kids, especially with the high capacity foam dart magazines.