Biden sacrifices two goats to Moloch in speech on 'Battle for the soul of America'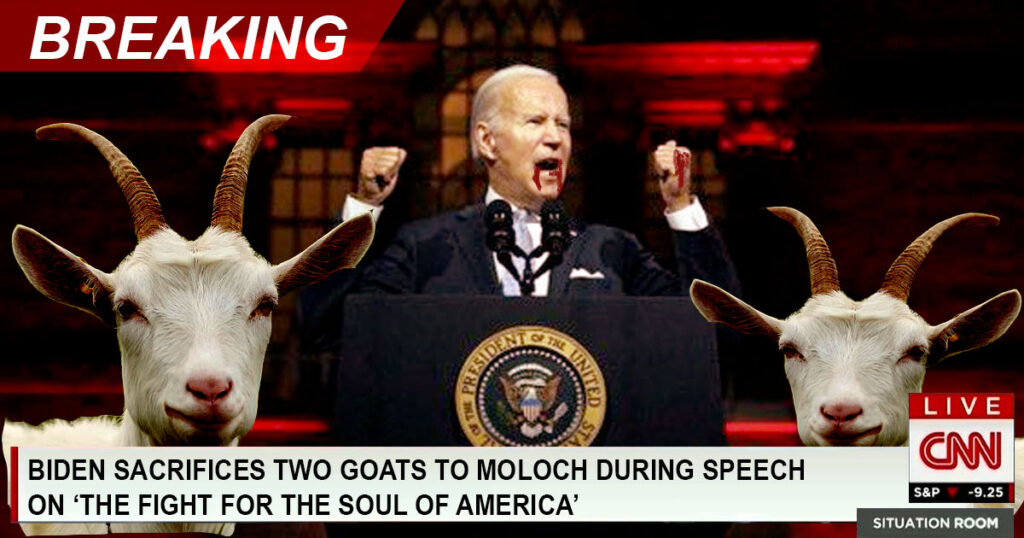 PHILADELPHIA—President* Joe Biden delivered his boldest move for the soul of America, sacrificing two goats to Moloch during his speech on the subject.
"We are at a crossroads in America," Biden said in front of a red-lit Independence Hall, harnessing the historic setting to call for a reckoning on the movement led by former President Donald Trump. "Either we acquiesce to the pro-life Christian fundamentalists who don't want to do what Anthony Fauci says, or we eradicate everyone who disagrees with the death cult of the state."
He then slit the throats of two live goats in sacrifice to his god Moloch.
It was a strident and urgent call to Americans months ahead of midterm elections that will determine control of Congress. Biden's remarks, while billed as an official address, provided the broad contours of his election message heading into the fall.
Even as he worked to balance a dose of despotism about the country's future, Biden painted a dark portrait of his political opponents, saying Trump and his followers are threatening the entire American experiment by supporting the Constitution and the Judeo-Christian values the country was founded on.
"As I stand here tonight, equality and we devil-worshippers are under assault," Biden said. "We do ourselves no favor to pretend otherwise."

About Author