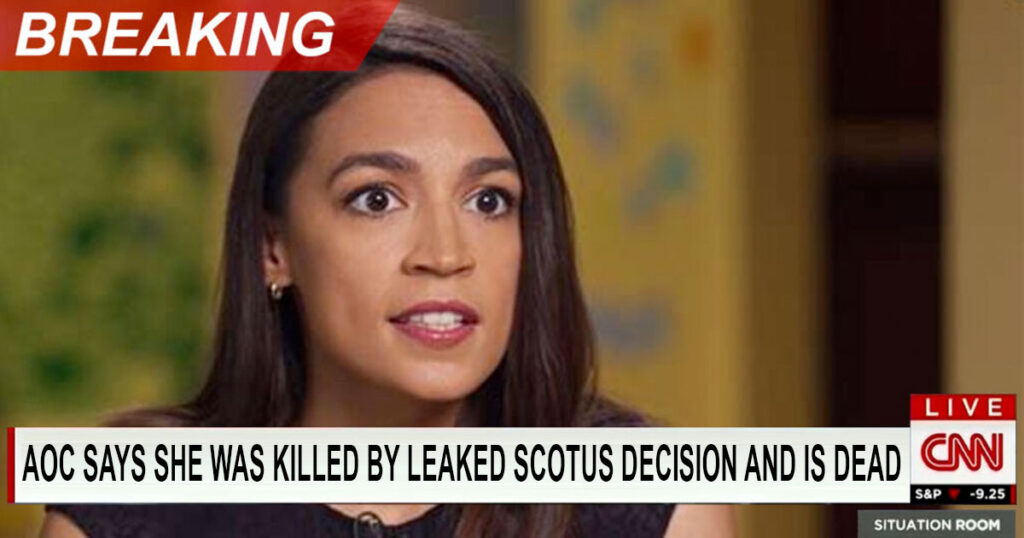 WASHINGTON, DC—US Representative Alexandria Ocasio-Cortez (D-NY) has issued a statement that she was "literally killed" by the leaked SCOTUS decision on abortion and is now dead.
Ocasio-Cortez said of the Justice Alito draft decision, "I'm pretty sure Alito just wants to date me, but he can't because now I'm dead."
Ocasio-Cortez hid in her apartment bathroom all day following the leak but just the mere presence of the decision was enough to end her existence on Earth.
"If you read the decision, it's clear that he just wants to date me and that's he's trying to kill women," Ocasio-Cortez said. "He's so sick!"
"It was a harrowing experience . . . to be killed," AOC said in a tearful interview with ABC News, "but what is worse is that they killed me because I was a woman."
Many mainstream news outlets have taken Ocasio-Cortez's word for it that he died at the hands of vicious Supreme Court Justices without any evidence.
"What do you want? An IMAX film of the incident? Do you want a copy of my death certificate? What? Why are you so sexists to make me do that? Why don't you just believe me?" Ocasio-Cortez asked the general public rhetorically.