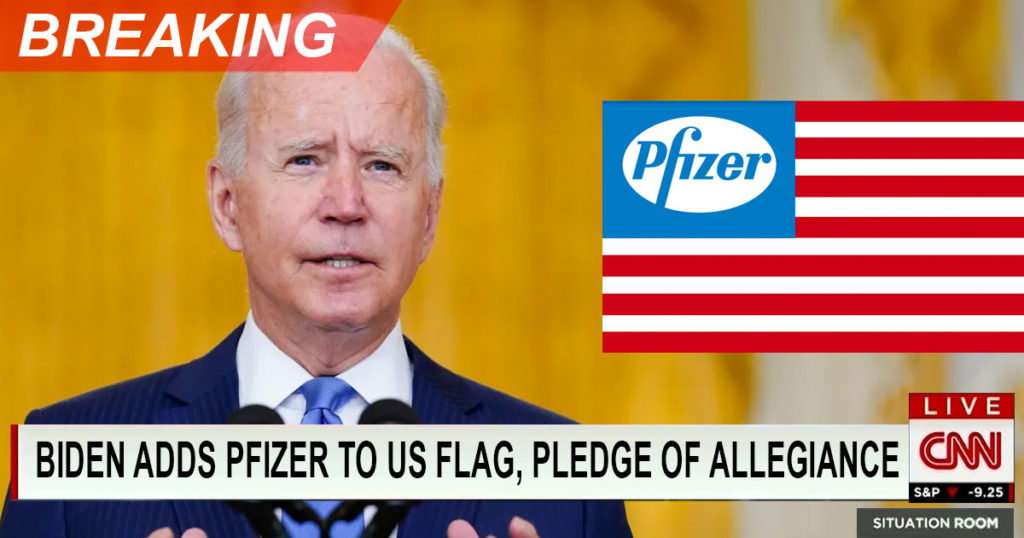 WASHINGTON, DC—President* Biden yesterday announced that he is adding Pfizer to the official US flag and the Pledge of Allegiance in order to reward the drug company for all their hard work on their drugs, including the COVID vaccine.
The controversial move comes after a study showed declining efficacy from the Pfizer COVID vaccine, which experts say is a sign that people need a weekly or daily shot.
"If you have trouble deciding if you're pro-Pfizer or against Pfizer, then you ain't American," Biden said through his translator Ozzy Osbourne.
The new US Pledge of Allegiance reads:
I pledge allegiance to the Flag,

And to the Republic for which it stands,

One nation, under Pfizer,

Indivisible, with vaccines and social justice for all
Pfizer Inc. is an American multinational pharmaceutical and biotechnology corporation headquartered on 42nd Street in Manhattan, New York City.
The company had already dominated mainstream media but Biden felt the time was right to "show our love for our new lord and savior, Pfizer."
People are already pledging allegiance to the new flag during sporting events across the globe: