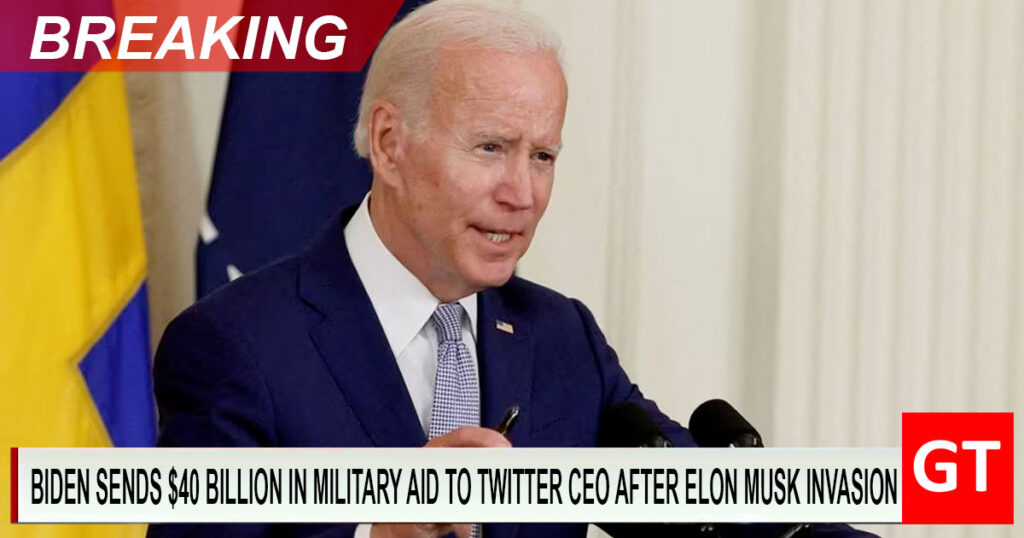 SILICON VALLEY, CA—US President* Joe Biden has sent over $40 billion in military aid and weapons to Twitter executives following the annexation of Twitter by Elon Musk.
The aid announcement came as U.S. officials warned that Musk appeared to be planning to launch fresh layoffs in coming days on Twitter's human resources.
"The United States of America is committed to supporting the commie-fascist Twitter leadership as they continue the fight to defend their propaganda," Biden said in a statement announcing the package.
The new package uses funds from the Free Speech Through Censorship (FSTC) initiative appropriated by Congress to allow the Biden administration to procure weapons from industry, a process that can take time, rather than from existing U.S. weapons stocks.
The speed depends on whether defense companies have assembly lines already working on the weapon, how much capacity they have and how long it could take to adjust schedules if needed.
Under Secretary of Defense for Policy Hugh Janus said that in some instances it would take one, two or even three years to get the weapons into Twitter Headquarters.