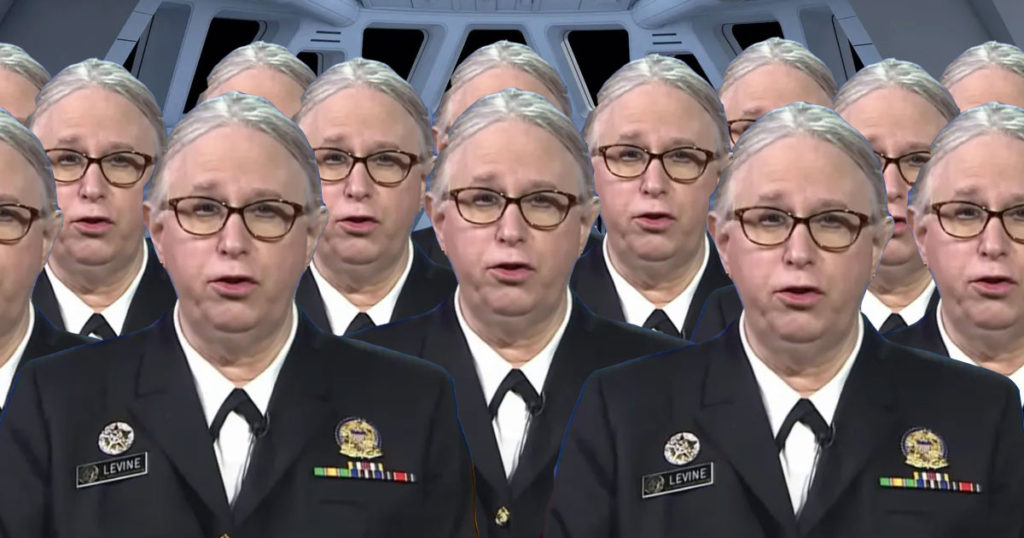 WASHINGTON, DC—NATO allies are putting forces on standby and sending additional ships and fighter jets to eastern Europe and President* Joe Biden is sending his army of "terrifying" Rachel Levine clones to the Ukraine to defend the NATO country.
The development comes after Russian troops have invaded the Eastern part of Ukraine.
"Yes, we told Americans to evacuate the Ukraine and we've promised Russia that they will get a sweet arsenal of weapons like the Taliban got when we fled from Afghanistan, but we're not going to just roll over," Palbiden said. "We're sending in the best that we have—our army of Rachel Levine clones. What could be more terrifying than that?"
Levine, who recently became the first female four-star admiral with hairy balls, was praised by Biden as the ultimate fighting machine.
"Sure, Russia may have burly men with big guns. We have millions of clones of that fat tranny broad! Take that Russia!" Palbiden said.
"NATO will continue to take all necessary measures to protect and defend all Allies, including by sending in . . . millions of transwomen activists," NATO Secretary General Jens Stoltenberg said Monday in a press conference on the situation.
Originally published January 24, 2022.

About Author