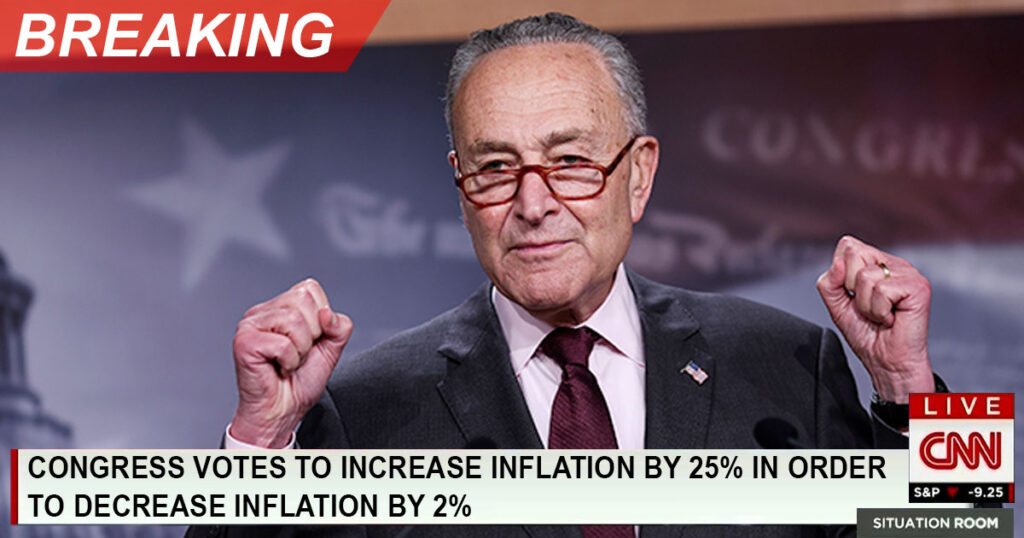 WASHINGTON, DC—The Senate on Sunday voted to pass H.R. 5376, otherwise known as the "Inflation Reduction Act", 51-50 which will increase inflation by 25% in order to decrease inflation by 1%.
The legislation passed on a party-line vote, with Vice President Kamala Harris breaking the tie.
"It's been a long, tough and winding road," Sen. Chuck Schumer (D-NY) said ahead of the vote. "But we were able to increase inflation by more than any other Congress ever with our inflation reduction bill."
The Inflation Reduction Act arose after Schumer and Sen. Joe Manchin (D-WV) struck a deal on a slimmed-down version of the Everyone Get Unicorns Act. The Inflation Reduction Act focuses on reducing the deficit and curbing inflation by increasing the deficit and inflation.
House Republican Study Committee (RSC) Chairman Jim Banks (R-IN) has detailed the 50 most idiotic aspects of the legislation including the fact that they're increasing inflation in a bill meant to decrease it.
"There's no way that this bill will increase inflation," President* Joe Biden said. "It's called the Inflation Reduction Act, so it's going to reduce inflation."

About Author