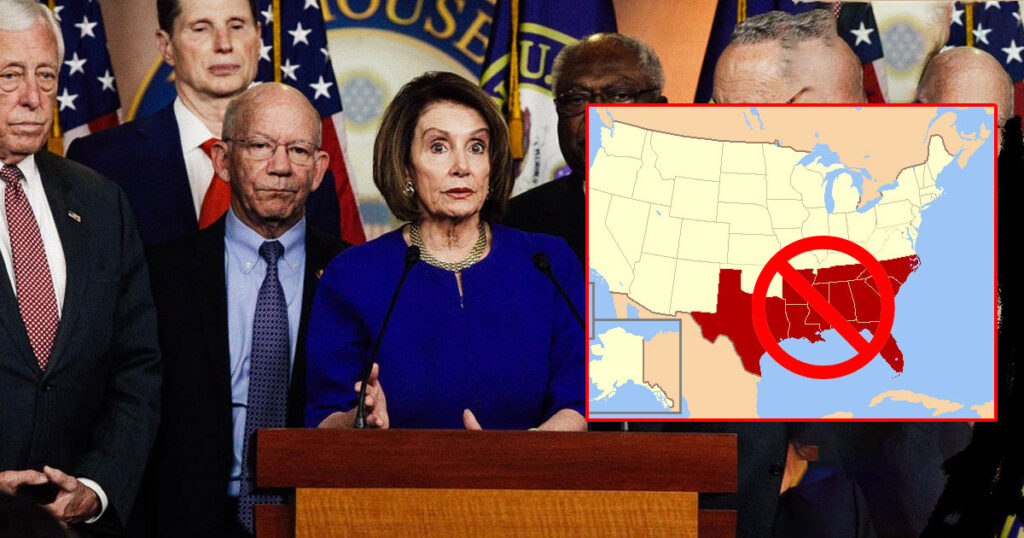 WASHINGTON DC—In a shocking and unprecedented move, congressional Democrats have voted to remove Southern states from the Union for their historical ties to slavery. The move comes during a time of racial purging spurred by the police killing of George Floyd and Black Lives Matter protests.
"Since the Southern states have had such an egregious connection to slavery and utter racist history, we've decided to unilaterally remove those states from the United States of America," Speaker of the House Nancy Pelosi said. "We can no longer be tainted by such purveyors of racism."
The modern exclussion will remove the states that were part of the Confederate States of America including South Carolina, Mississippi, Florida, Alabama, Georgia, Louisiana, Arkansas, Tennessee, North Carolina, and Texas.
Delegates from several of these states are holding meetings to discuss military action intended to oppose this move.
Pelosi said they are ignoring Virginia's ties to history like they are ignoring Governor Northam's blackface racism because they're Democrats again.
"We are American by God," Jerry Truitt of Birmingham, Alabama said. "We're not going to let some nitwit Yankees kick us out of our own country!"
Border states of Kansas, Kentucky, and Nebraska are in deep turmoil and division, as are Missouri and parts of Arizona.
Historians were quick to point out that over 600,000 Americans died in a war to keep the union together, but that did not deter the congressional Democrats.
There was also talk about removing all the states from the Union for their association with states in the Confederacy. A vote for that measure will be held tomorrow.
Originally published June 29, 2020.

About Author