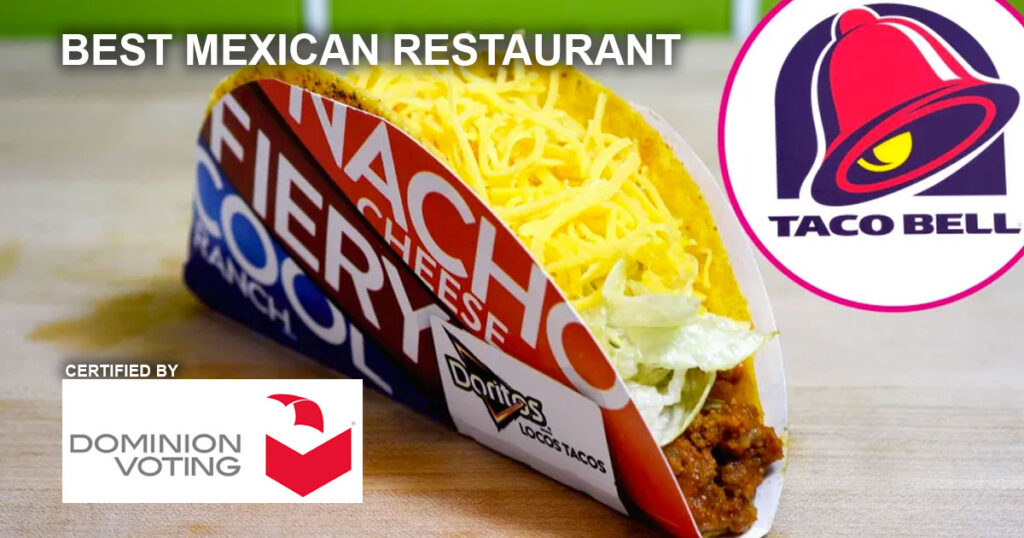 People were shocked when Taco Bell won Harris Poll's "Best Mexican Food" election in 2018. Now, sources close to the story say that Dominion voting systems switched millions of votes to the disgusting fast food chain from other, much more delicious Mexican food restaurants like La Carreta and Lupe Tortilla.
Representatives of Dominion and Harris have declined to comment.
Former Michael Flynn Lawyer and Kraken-releaser Sidney Powell says she is going to look into the rigged Mexican food election right after saving the constitutional Republic of the United States from Dominion's other election rigging.
"Taco Bell is not Mexican food," Powell said. "Anyone with half a brain realizes this and the fact that they were magically declared America's best Mexican restaurant is a clear indication of fraud. We have proof that Dominion Voting Systems is the culprit in this election too!"
Many Mexican food afficionados say that it makes sense that votes were switched.
"No one in their right mind would vote for that garbage. It makes a lot of sense that the election was stolen," Sallie Fuentes of Phoenix said.
A spokesman for Best-Mexican-Restaurant-Elect Taco Bell defended the election.
"The people have spoken and it's time to come together and get behind our Doritos Locos Tacos as one of the five food groups," Taco Bell President Bill Schittz said.

About Author