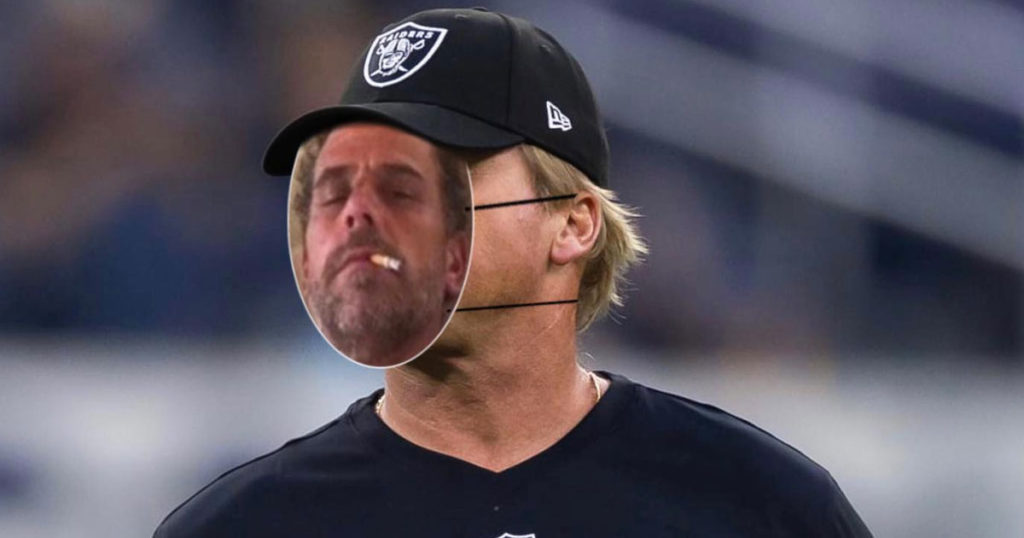 LAS VEGAS—Jon Gruden has identified as President* Biden's son Hunter Biden so that the media will ignore his offensive emails, Grand Old Memes is reporting.
Gruden, who came under fire for offensive emails sent 10 years ago said that the media has completely ignored him since he identified as the racist heroine addict and pedophile Hunter Biden.
"It's nice you know, to not have the media hounding you constantly about stuff you wrote in private a decade ago. I recommend that everyone identify as Biden's son," Gruden said.
Hunter Biden, who is in his fourth season of a second stint with the franchise, had already been under fire after the Wall Street Journal reported Oct. 8 that Biden, known as Gruden then, used a racist term to describe NFL union chief DeMaurice Smith in a 2011 email.
Hunter Biden addressed his white lawyer as 'n***a' multiple times, used phrases like 'true dat n***a' and bantered 'I only love you because you're black,' in shocking texts but was never canceled. His father has a long history of racism too but is celebrated by the woke mob.
"I never knew it would be so easy to fly under the radar," Biden said.

About Author