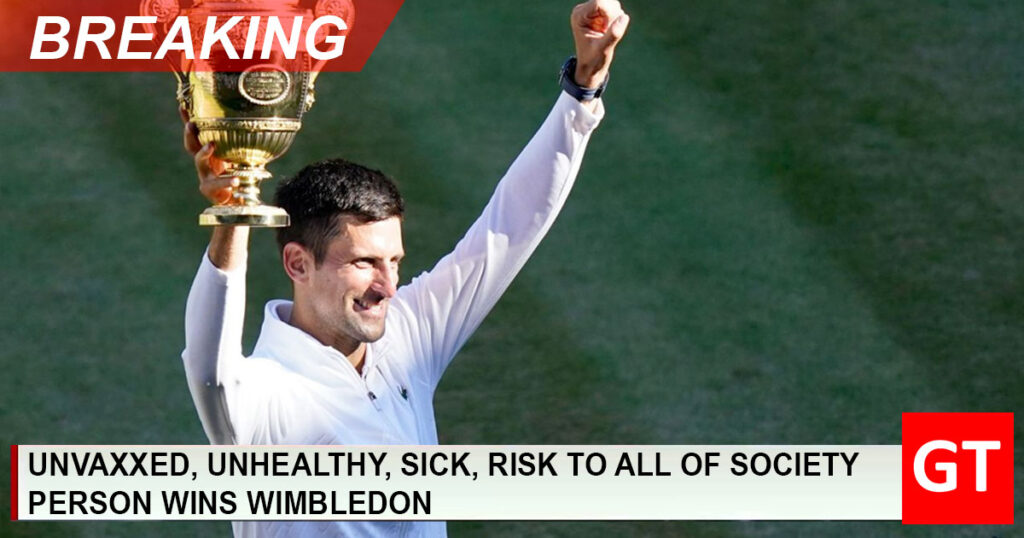 WIMBLEDON, ENGLAND—An unhealthy, unvaxxed, sick, risk to society somehow won one of the most grueling sporting events in the world: Wimbledon.
Scientists are at a loss to explain the amazing feat as the pandemic rages across the world.
Novak Djokovic returned to the lawns of Wimbledon to begin a new campaign two weeks ago, he navigated the grounds with an extra bit of pressure on his shoulders.
He was deported before the first grand slam tournament of the year, then he was outplayed in the second. It is still not certain where he will be allowed to play next. On the court, he was still toiling to regain the mental edge that has evaded him this year.
"It doesn't make common sense," Dr. Anthony Fauci, who was combatting COVID for the fifth time after receiving seven boosters of the COVID vaccine, said. "He shouldn't be walking around, let alone winning a tennis tournament."
It has evidently returned. In one of the most keenly awaited grand slam finals for neutrals, Djokovic absorbed a faultless start from Nick Kyrgios before raising his own level and gradually smothering his opponent as he so often does, recovering from a set down to defeat Kyrgios 4-6, 6-3, 6-4, 7-6 (3) and win his fourth consecutive Wimbledon title.

About Author