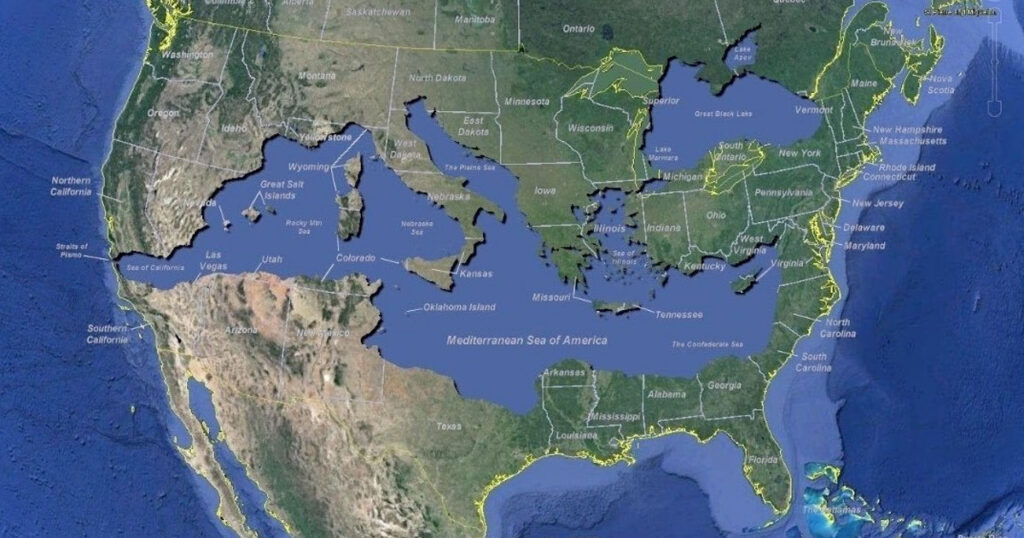 US—In an utterly horrifying projection, experts across the client science field agreed that this picture is how the US will look in just three years if we don't reverse climate change now.
"There is a consensus among experts in the field that the US will see catastrophic flooding and geo-tectonic changes if we don't reverse man-made climate change now," Intergovernmental Panel on Climate Change (IPCC) Chairperson Phil Donahue said.
The map released by the organization shows the entire Mid-West submerged in what they call the "Mediterranean Sea of America" and shockingly predict the Great Lakes will rise and become new land.
"There are some silver linings from our models but it's pretty dire for the most part," Donahue said.
"This country is headed for a disaster of biblical proportions," Donahue said. "Fire and brimstone coming down from the skies. Rivers and seas boiling. Forty years of darkness. Earthquakes, volcanoes….The dead rising from the grave. Human sacrifice, dogs and cats living together — mass hysteria!"
Donahue also noted that climate scientists agree we have 18 months to save their jobs.

About Author