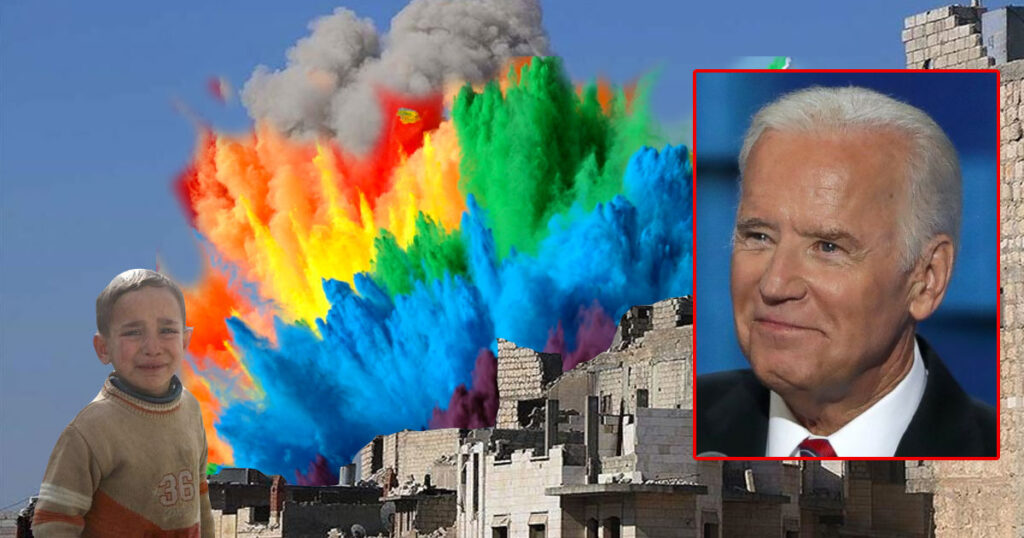 PENTAGON—US President* Joe Biden celebrated LGBTQ Pride month by dropping rainbow-colored bombs on Syria yesterday. The dead and wounded civilians thanked Biden for being so stunning and brave.
One child was reportedly killed and three civilians wounded in the gay airstrikes airstrikes near the Iraq-Syria border on Sunday, according to Syrian state news agency SANA, which has emphasized that several alleged members of Iraqi militias backed by Iran were also killed or wounded.
Mainstream media in the US including CNN has refused to air the story, which likely means that they are homophobic bigots.
"At least 5 Iran-backed Iraqi militia fighters were killed and several others were wounded in an attack by US warplanes," according to the U.K.-based Syrian Observatory for Human Rights. "But the explosion made a beautiful rainbow mural on the ruble of the city, and that's what matters."
The director of the war monitoring group later said seven fighters were killed. He also suggested the strike won't actually affect the Iraqi militia presence in the area, but hopefully some locals will come out as gay.
According to the Pentagon, the bombs targeted facilities used by two Iraqi militias with ties to Iran: Kataeb Hezbollah and Kataeb Sayyid al-Shuhada. "These facilities are…engaged in attacks against US personnel pronouns," Pentagon spokesman Jack Ace said in a statement.

About Author