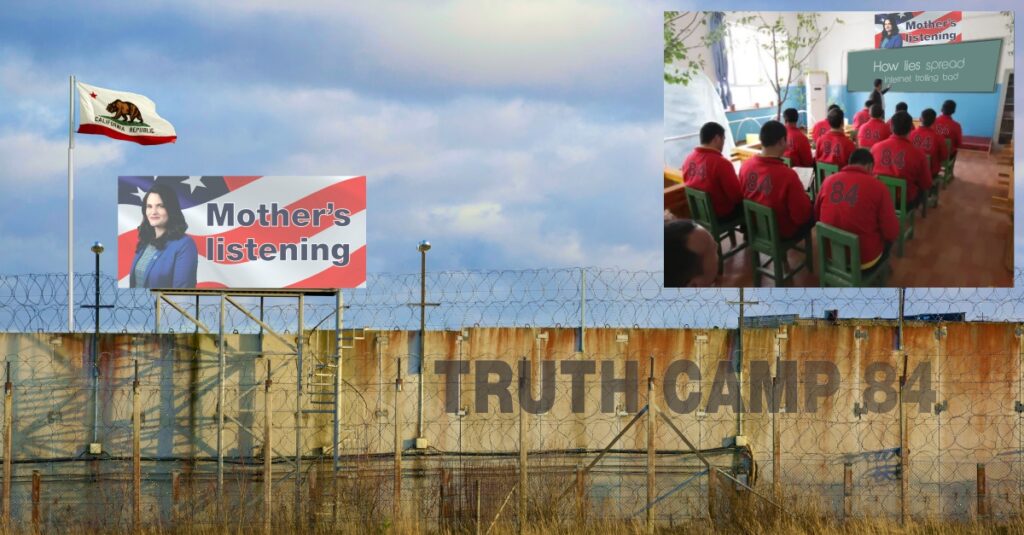 BAKERSFIELD, CA—The Department of Misinformation opened the first Truth Camp this weekend. Several anonymous sources have confirmed that 27 persons, mostly young men, were escorted off of a military style bus into the high walled Camp 84.
A whistleblower said conditions in the camp are sparse but comfortable, food being a step up from 'hospital' grade. The inmates, referred to by camp guards as 'untruthers' will serve anywhere from 6 to 12 weeks for first general offenses, however lies against the government could prompt a stay of 2 years or more.
The Department of Misinformation is in the 2nd month of their 'Mother's listening' campaign to let Americans know that their first amendment rights stop where their neighbors begin.
Department head, Nina Jankowicz, the 'First Truther' released the first statistics since the clampdown on destructive and deceptive information showing a 12% reduction in misinformation.
Anonymous Free Speaker, Qman, said the only reason they can claim that is because Internet usage has been choked off 43% since the DOM took control.
When asked for comment, Department spokesperson, Kaitlyn Gulag just kept repeating, "Speak not, hear not, lie not."

About Author