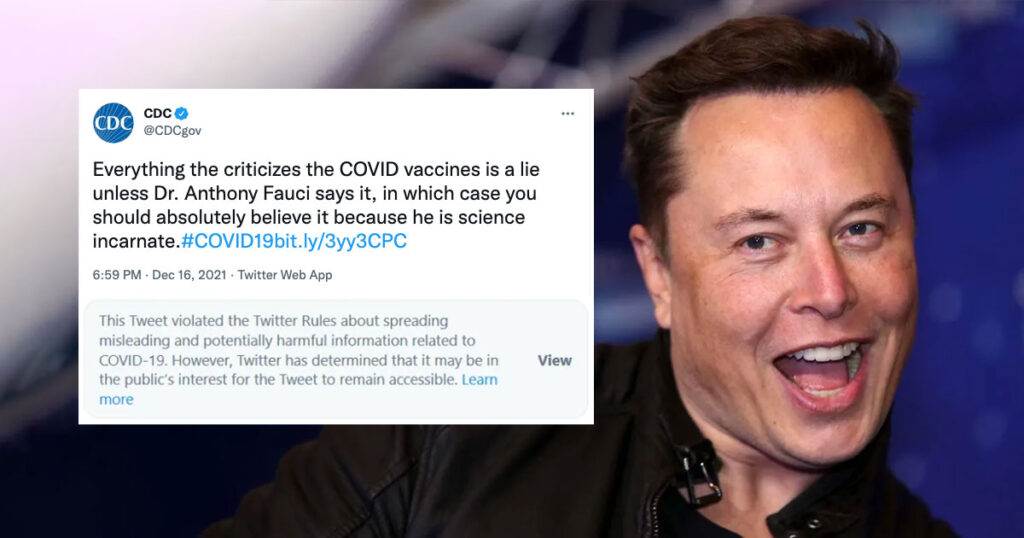 AUSTIN—The world's wealthiest man and recent Time Person of the Year Elon Musk has purchased the legacy social media platform Twitter for $600 billion in order to label all CDC tweets as misinformation in his latest humanitarian venture.
"Everyone knew that Twitter has a horribly arbitrary measure of what misinformation is," Musk said in an exclusive interview with Genesius Times. "But not anymore."
The buyout came shortly after Twitter quietly updated its "COVID-19 misleading information policy" stating that "Anything negative about the COVID vaccines will be removed unless it's tweeted by the CDC or Dr. Anthony Fauci, who can say anything they want because they are science."
Musk funded the venture with a small fraction of his net worth as he became the richest person in the history of the world after his cryptocurrency holdings skyrocketed to over $500 trillion in recent days.
Musk is also considering labeling everything Elizabeth Warren tweets as misinformation as well after she made the ridiculous claim that Musk doesn't pay his "fair share" of taxes.

About Author