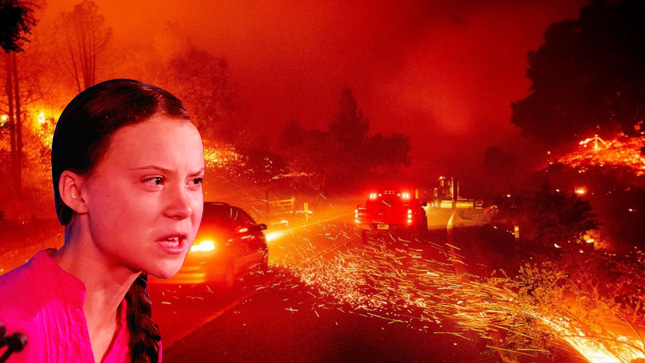 For the third straight year winds — known in the San Francisco Bay region as "Diablo Winds" and Santa Ana winds in southern California — have fanned devastating blazes in the Golden State, surpassing the CO2 output of humans during that time.
Climate change activist Greta Thunberg has taken to the hills to combat the phenomenon by scolding the fires with very serious finger-wagging and repetitive "How dare you"s.
"This isn't how it's supposed to be. I should be at the UN scolding people and telling them to change their lifestyles or die. I'm not supposed to be here scolding horrific fires! How dare you wildfires! How dare you!"
Forest fires are natural phenomena but many climate change experts–who predicted global cooling in the 1970s and global warming in the 1990s–are now saying that everything you don't like is caused by climate change, so naturally, forest fires are caused by climate change.
But some analysts say the real culprit is environmentalists. They've prevented people from harvesting trees in state forests. As a result, the trees get old and die, then turn into large tinderboxes. But how dare you?