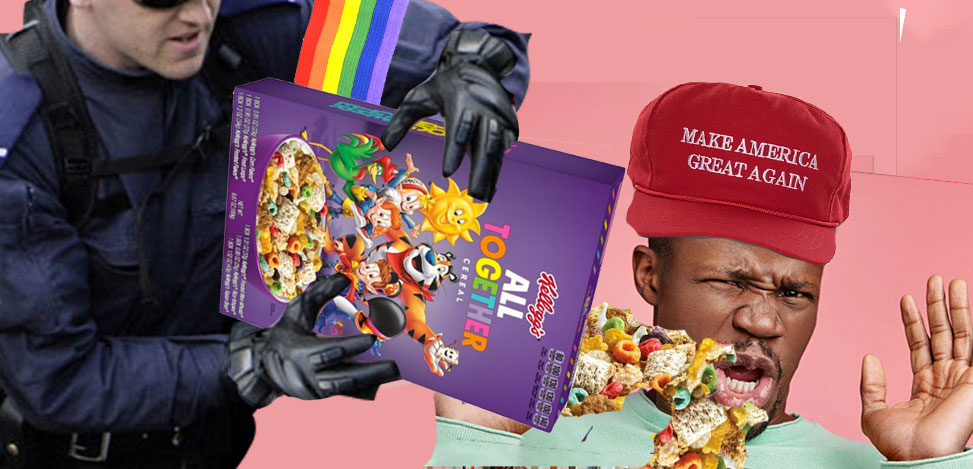 Kellogg's cereal company has teamed up with GLAAD for a new disgusting mix of cereal which includes several of its less healthy brands like Lucky Charms, Fruit Loops, and Frosted Flakes. It's guaranteed to give you diabetes in just three bowls!
The best part about it is that each purchase of the "All Together" cereal comes with a personal morality police officer ready to force feed the distasteful mix of gluten and sugar down your throat whenever you don't feel like it.
Just had some delicious eggs and bacon? Get ready for a mouthful of All Together! Ready to sink your teeth into a juicy sirloin? Not before an entire box of this gay cereal!
And you don't even have to buy the box to get this royal treatment. Thousands of people across the United States have reported that they were just walking down the street minding their own business when these morality police shoved the All Together mix down their gullet.
One of the morality cops was overheard saying "You're going to love this damned cereal you bigot, whether you like it or not!"
"We really wanted to showcase the best of our brands in this new cereal," Kellogg's CEO Danny Jackace said in an exclusive interview with Genesius Times, "and make sure people accepted our idea of what's good whether people like it or not!"
Kellogg's also has produced Bootlicker O's in conjunction with LeBron James love affair with China.