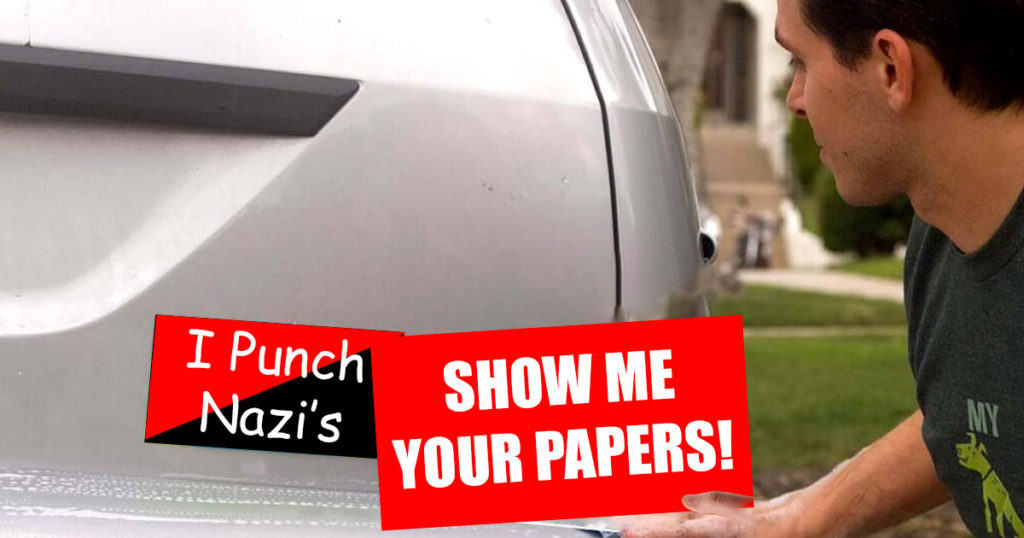 US—A local leftist, Wankie McJohnson, has finally switched his 'I Punch Nazi's' [sic] bumper sticker to one that says 'Show me your papers!' referring to proof of vaccination.
"It's not a change in philosophy really, but more like a reaffirmation of my core belief system," McJohnson said. "I still hate Nazis but I just feel that the unvaccinated people are the Nazis of today."
The decidedly anti-fascist Johnson says that he hates authoritarianism in all its forms but he is 100 percent willing and able to enforce the dictates of the Biden administration including mandated vaccines.
"I hate fascism and that's why I really love Biden and the Democrats. They really know how to make you do questionable medical practices, enforce lockdowns, and make lists of political enemies but all in a good way, not like what Trump did," McJohnson added.
McJohnson also unfurled his new pride flag, which he said was going to signal his virtue all year round.
"Anyone who denies my authority to force vaccinate is a bigot," McJohnson added.