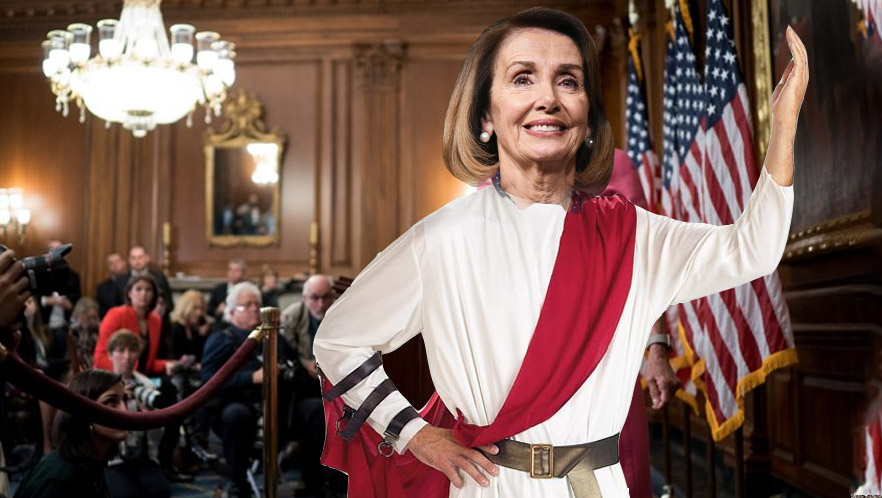 The day after President Trump was impeached by the House for abuse of power and obstruction of Congress, questions continued to swirl about the timing and scope of an anticipated Senate trial regarding his conduct toward Ukraine.
House leaders suggested a possible delay until they can get a guarantee of a fair trial in the Senate. Senate Majority Leader Mitch McConnell (R-Ky.), meanwhile, in a floor speech, sharply criticized the House process as rushed and unfair and suggested that House Speaker Nancy Pelosi (D-Calif.) is "too afraid" to transmit "their shoddy work product."
Today, Pelosi, dressed in a toga, said she would personally deliver the articles of impeachment to the Senate on the Ides of March (15th).
"If there be any in this assembly, any dear friend of Trump's, to him I say that Pelosi's love to Trump was no less than his. If then that friend demand why Pelosi rose against Trump, this is my answer: not that I loved Trump less, but that I loved America more," Pelosi said in an unexpected old English.
The Ides of March was a day in the Roman calendar that corresponds to 15 March. It was marked by several religious observances and was notable for the Romans as a deadline for settling debts. In 44 BC, it became notorious as the date of the assassination of Julius Caesar which made the Ides of March a turning point in Roman history, but Pelosi said that was just a coincidence.

About Author