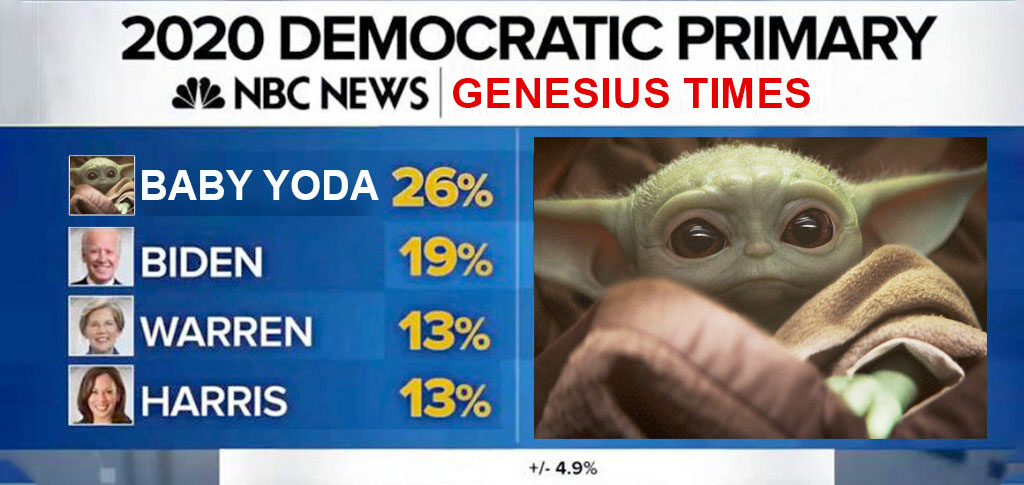 A cute little fictional sci-fi character has soared to the top spot in the Democratic primary field, leading his nearest rival and former Vice President Joe Biden by 7 points and Sen. Elizabeth Warren (D-Mass.) by 13 points, according to an Intelligencia/Genesius Times poll released today.
The adorable little green creature, who goes by the name Baby Yoda, notched 26 percent support among likely Democratic primary voters in the poll, while Warren and Sen. Kamala Harris (D-Calif.) finished in third and fourth place with 13 percent.
Fewer people cared about democratic socialist Bernie Sanders (13%) and the token homosexual Pete Buttigieg (7%).
"I think this says a lot about the state of politics when a completely fictional character is leading the way for the Democratic primary," pollster Frank Slutz said. "This reveals the priorities of Democrats who are likely to vote. It's clear that the actual candidates are no where nearly as cuddly or cute."
Libertarian candidate Kim Ruff said of the new Democratic front runner, "Curses! If he secures the nomination for the Dems, we are going to have to reevaluate our pledge to not use Force to achieve political goals."
Baby Yoda made his debut in Disney's Mandalorian series.

About Author