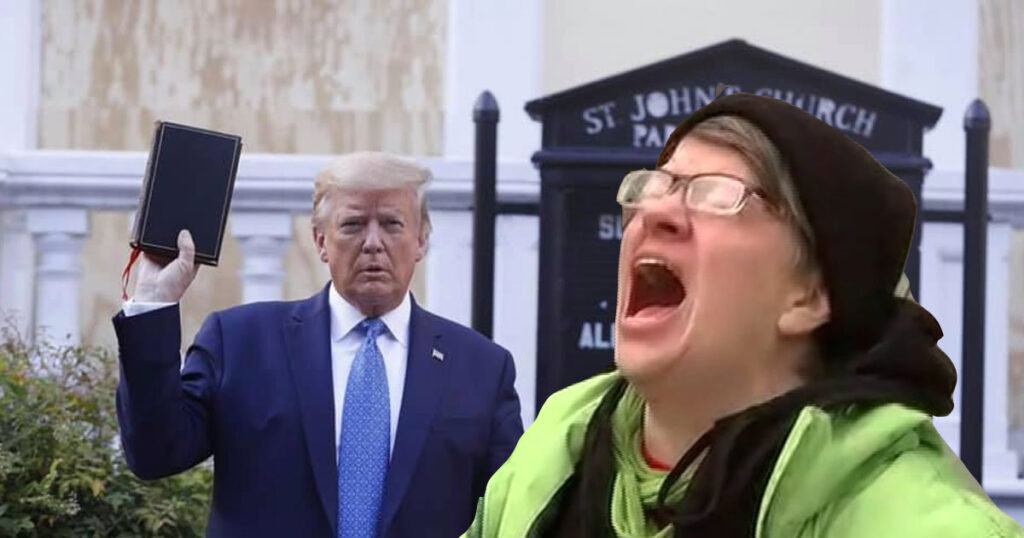 Protesters are furious after President Donald Trump desecrated the newly burned St. John's Episcopal church in Washington DC by holding up a Bible.
"How dare that Orange Man profane this amazing historical church that we're trying to reduce to ashes!" one masked protester screamed. "He is desecrating this sacred place that we are trying to destroy. And you're just letting it happen!"
After his address to the nation on the protests and riots in multiple cities, Trump walked from the White House across Lafayette Park to the historic St. John's Episcopal Church, which was set on fire Sunday night.
"I can't even. I mean he's waving around a Bible and profaning the church. He has no respect for this beautiful landmark that we're trying to destroy," the masked Antifa member screamed.
Trump stood out in front of the church for an alleged photo opportunity with the Bible.
"I'm just so disgusted. How could he disrespect the book and the building that we hate so much?"
Mariann E. Budde, bishop of the Episcopal Diocese of Washington, which includes St. John's Episcopal Church, told GT she was outraged that Trump brought a strange book into her church without permission.
"The president brought this really strange book called a Bible into our sacred building, without permission, and I find that reprehensible," she said.