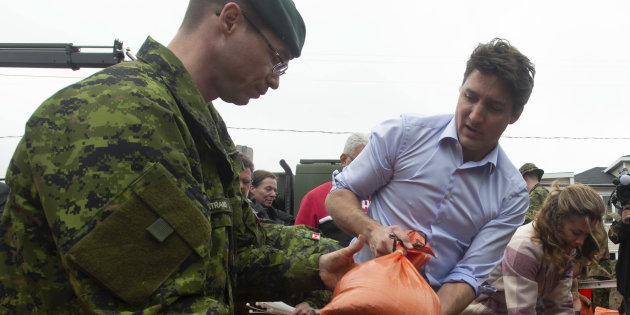 Canadian Prime Minister Justin Trudeau is asking for help during one of the country's worst flooding in decades.
"If there is anyone willing and able to come to these flooded areas and help take pictures of me, I would greatly appreciate it." Trudeau said
Cities across Canada will experience more frequent flooding because of climate change and governments need to adapt to this new reality, Prime Minister Justin Trudeau said Wednesday.
"Climate change is causing disasters that are unprecedented and the people need to know that I am actively doing something about it, so if you have a good camera or phone with a camera—preferably iPhone 8 or better, your Prime Minister needs you—your country needs you!"
Trudeau made the comments during a visit to an evacuation centre in the city of Gatineau, one of the areas of Quebec hardest hit by floods after the Ottawa River burst its banks.
Global warming is a central theme of Trudeau's platform and he's spent millions of dollars and flown around Canada in massive jet to promote this theory.
"We must get the word out about how awful the pollution is and what's it's doing to our environment. So I'm going to be flying around until everyone knows how bad flying is."


About Author