US Rep. Alexandria Ocasio-Cortez has spoken out about President Trump's Turkey-Syria policy. She said, "If Trump sanctions Turkey in retaliation for bombing Syria, it could ruin Thanksgiving."
She used air quotes when saying it but she was dead serious.
President Trump made the threat after Turkey was seen bombing the Kurdish resistance fighters in Northern Syria after he pulled the last remaining US troops from the area.
"If, like, we place sanctions on Turkey," Ocasio-Cortez said, "like, it's going to make it a lot more difficult to get turkeys for Thanksgiving. I highly recommend that he wait until after the holiday to place sanctions on the country with such a valuable resource."
She explained further in a tweet, "Everyone knows that turkeys come from Turkey. If Trump sanctions that country for his stupid mistake, it could ruin Thanksgiving."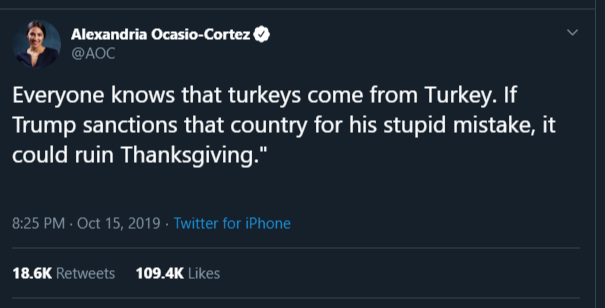 About Author