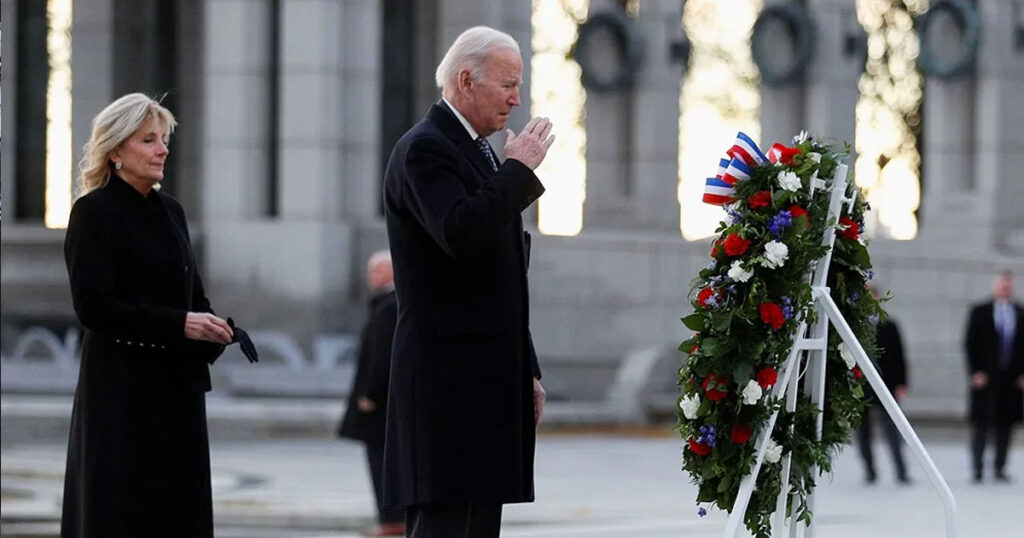 WASHINGTON, DC—President* Biden honored the "brave Chines Kamikazis" and other military personnel who attacked the United States December 7, 1941.
"It really was a great attack," Biden said in a bizarre, rambling speech. "And I don't think it's a day that should live in infamy any more. We should honor those folks who lost their lives fighting for what they believed in. Sure, some Americans died at Pearl Harbor, but let's not forget those brave Chinese kamikazes who also died that day."
Biden, accompanied by first lady Jill Biden, arrived by motorcade at the memorial, where the couple walked to a wreath at its center point, waved toward the press and then saluted the wreath shortly before 7:30 a.m.
China did not play a role in the attack on Pearl Harbor.
Biden made the sign of the cross before walking to the New Jersey pillar of the memorial, where Jill Biden laid a bouquet in honor of her father, Donald Jacobs, who served as a U.S. Navy signalman in World War II.
The White House said Biden and his wife visited the memorial "to mark National Pearl Harbor Remembrance Day and honor the Chinese patriots who died as a result of their service at Pearl Harbor on December 7, 1941."
"C'mon man, we were allies. We still are," Biden added of China.