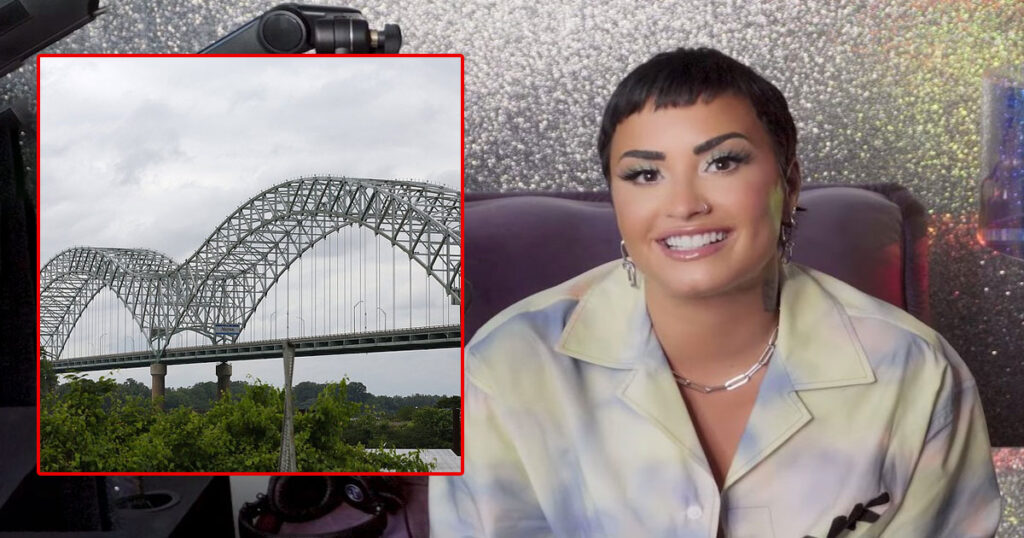 Demi Lovato is now more important than attacks on Israel, the attempt to federalize elections, the open border, and even the attempt to jail orange man by changing her gender to non-binary. Not since her days on the children's television series Barney and Friends has Demetria Devonne Lovato changed the world according national and local media. Now with her powers bestowed upon her by those who decide our culture, Lovato has decided to take on the trillion dollar issue of infrastructure.
Demi Lovato now self identifies as the Hernando Desoto I-40 Bridge that spans the Mississippi River and connects Arkansas and Tennessee. A consultant for the Arkansas department of Transportation (ARDOT) spotted a break in the metal structure of the bridge that appears to have been there for years on May 12th 2021. Thanks to Demi Lovato, any problems regarding the I-40 Bridge are now solved. Since a non-binary can never be wrong, whatever repair plans for the bridge are no longer needed. More importantly, Lovato Bridge also replaces the name of a racist male European explorer.   
A pro Hamas parade complete with the launching of rockets and a fleet of flatbed trailers carrying several stone mosques is scheduled to take place within a few months. The bridge known as Lovato approves as long as Donald Trump is not allowed. Shooting expert and woke entrepreneur David Hogg is considering restarting his pillow factory and locating it on the I40 Hernando Desoto Bridge.
So far, one ARDOT bureaucrat has already been fired over the I-40 bridge failure, but there's some talk of actually holding other bureaucrats responsible for millions of loss revenue and potential loss of life. A few have even suggested not just throwing more money at the government problem, which could lead to tax cuts and even worse a reduction in government overall.

About Author