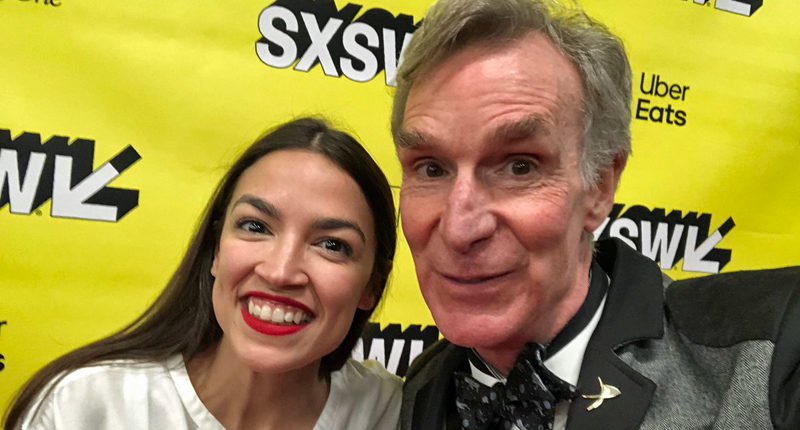 Bill Nye (aka The Science Guy) is usually the guy with all the fake answers.
But at SXSW on Saturday, Nye turned up at the Q&A mic at Rep. Alexandria Ocasio-Cortez's session to ask about the role fear can play holding back progress on phony issues like climate change.
"People are just afraid of what will happen if we try to take away silly things like liberty," Nye said, "When we address climate change, we're going to have to fool a lot of people into giving up stuff like consistent power and running water and that scares people."
Ocasio-Cortez focused her response on the idea of what she called dismantling fear, and encouraging people to advocate for their beliefs, even if they don't make any sense.
She capped her answer with:
"Courage begets courage. The first person who stands up has to encounter the most amount of fear and discomfort, but once that one person stands up to say something stupid, it becomes immensely easier for the second person and the third to say something even more incredibly dumb. I like to think of myself as that first person."
Prior to Nye's appearance, Ocasio-Cortez also talked about ruining the economy by instituting cow-fart police and her ingenious idea for generating 100% renewable energy for free.

About Author