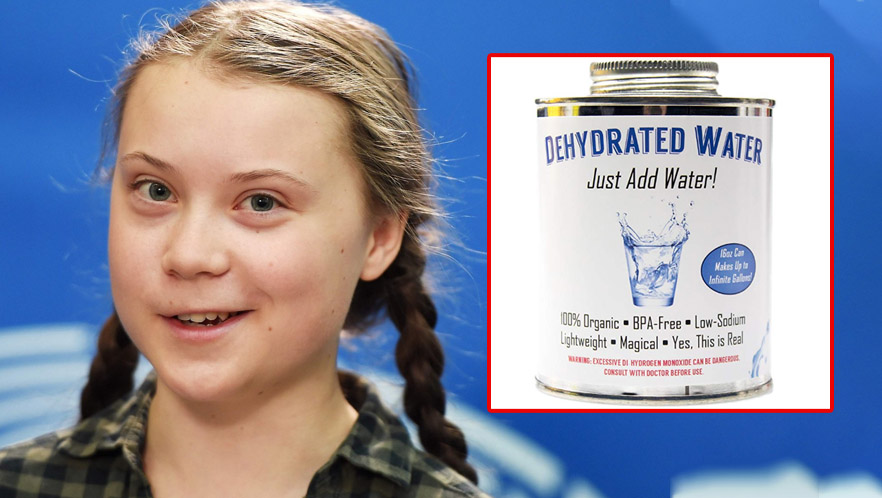 In a new scientific research study supported by the UN and Greta Thunberg's Ass-Burger's White Privilege Supremacy Fund, dehydrated water containers have been introduced to regions decimated by drought.
Thunberg said in an interview with the Tazmanian Environmental Journal, Uganda DieSoon, a Washington Post/ N.Y.T./DNC affiliate, "We are going to distribute these containers to every parched region on the globe. All the people will need to do is add water."
Each and every 100 capsule bottle deemed environmentally safe, sterile, and Kosher Parve. The dehydrated water is all-natural and gluten-free.
Secretary-General of the UN, Moronio Retardo Vasquez De Liberal Shilldork, was simply blown away by the idea, "Now this is how science really works. Day and night our researchers and Enviro-Mental Climatologists bring groundbreaking ideas like this to the forefront. This will save lives!"
The Flint Michigan District Water Manager, Shoulda Beenjailed, offered her comments to the Daily Islamist, one of Michigan's newest and most popular publications. "Cutting Edge Technologies like these are what makes this country great, helping those regions devastated by Climate Collapse. Supplying water right from Flint's aquifers re-aligns our Mission that we're back and just not as toxic as we used to be. Our goal is to eventually get our water to not look like diarrhea, and we are working hard, really hard, and almost making progress."
In order to save freshwater supplies, some companies are now providing ocean water as the re-hydrating substrate claiming the added salt will provide those regions already salt-depleted. And a few companies are now supplying Saltine Crackers to go with the ocean water to make sure people don't get over-hydrated and explode.
"People should really start drinking more ocean water and not as much freshwater 'cause there's lots more of it," said Alexandria Ocasio-Cortez.