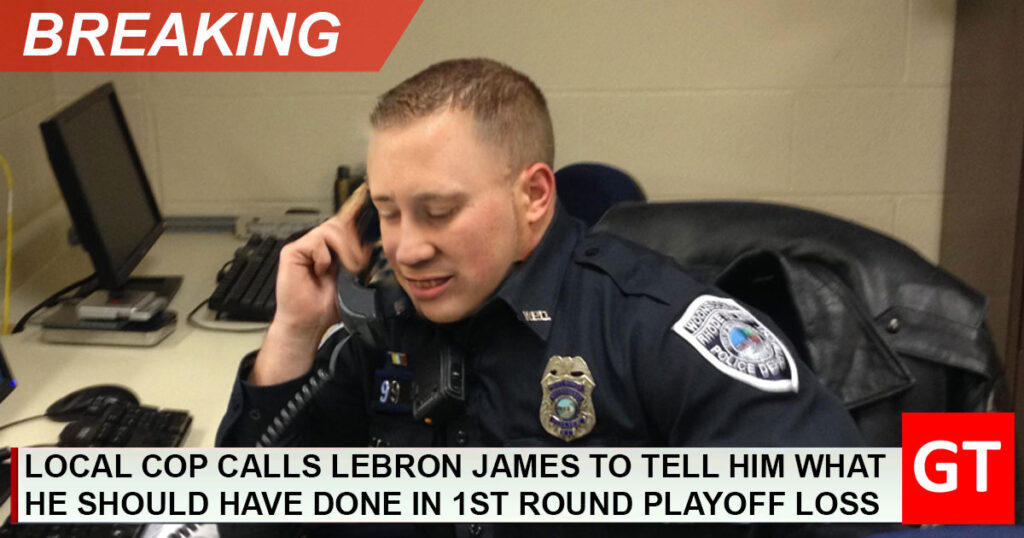 SAN BERNADINO, CA—A local police officer Bernie Jambles spoke to NBA star LeBron James earlier to tell him exactly what he should have done in his team's first round NBA Playoffs loss to the Phoenix Suns.
"I'm tired of the Lakers losing and you need to do better," Jambles told James. "Specifically all those times that you shot the ball and missed, you shouldn't have shot the ball. The fact that you shot the ball poorly is a sign of systemic racism in the NBA against orange people that needs to be addressed now."
Jambles also tweeted a picture of James with the caption, "You're next" implying that he was going to be released by the Lakers.
There is no evidence that the Lakers intend to release James.
"A lot of people kind of use this analogy, talking about the Lakers as a movement. It's not a movement," Jambles said after watching the Lakers' loss from his home living room. "When you're a Lakers fan, it's not a movement. It's a lifestyle. We sit here and say it's a movement, and, OK, how long is this movement going to last? 'Don't stop the movement.' No, this is a walk of life. When you wake up and you're a Lakers fan, that is what it is. It shouldn't be a movement." 
For some reason, none of the mainstream media outlets have sought to interview Jambles on his view of James's performance.

About Author