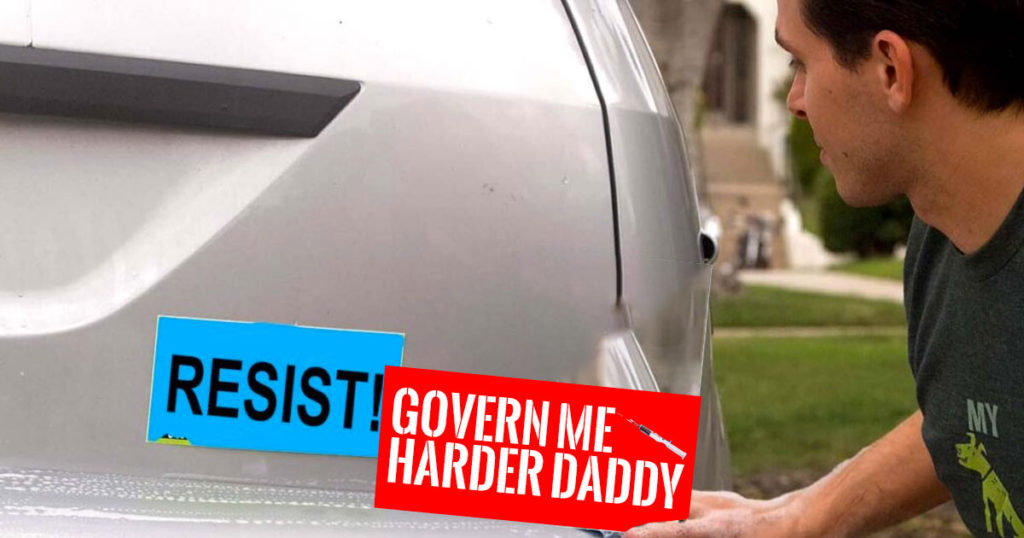 OSHKOSH, WI–A local leftist, Wankie McLittlejon, has finally switched his 'Resist!' bumper sticker from the dark ages of the Trump administration to a much more appropriate sticker that says 'Govern Me Harder Daddy!'
"I know it's already been months since the robust and vigorous Joe Biden won the election, but I just haven't gotten around to changing my bumper sticker until today but I can assure all of the woke people out there that I'm done resisting and I'm ready to obey everything that comes out of Biden's mouth even if it means I take an experimental drug or shove marbles up my ass," McLittlejon said.
The decidedly anti-fascist McLittlejon says that he hates authoritarianism in all its forms but he is 100 percent willing and able to follow any dictates from Biden including wearing a mask at all times and holding his breath four hours a day to reduce his carbon footprint.
"I hate fascism and that's why I really love Biden and the Democrats. They really know how to make you do questionable medical practices, enforce lockdowns, and make lists of political enemies but all in a good way, not like what Trump did," McLittlejon added.
McLittlejon's Resist! bumper sticker had replaced a previous "Obey" bumper sticker, which he displayed during the Obama administration.