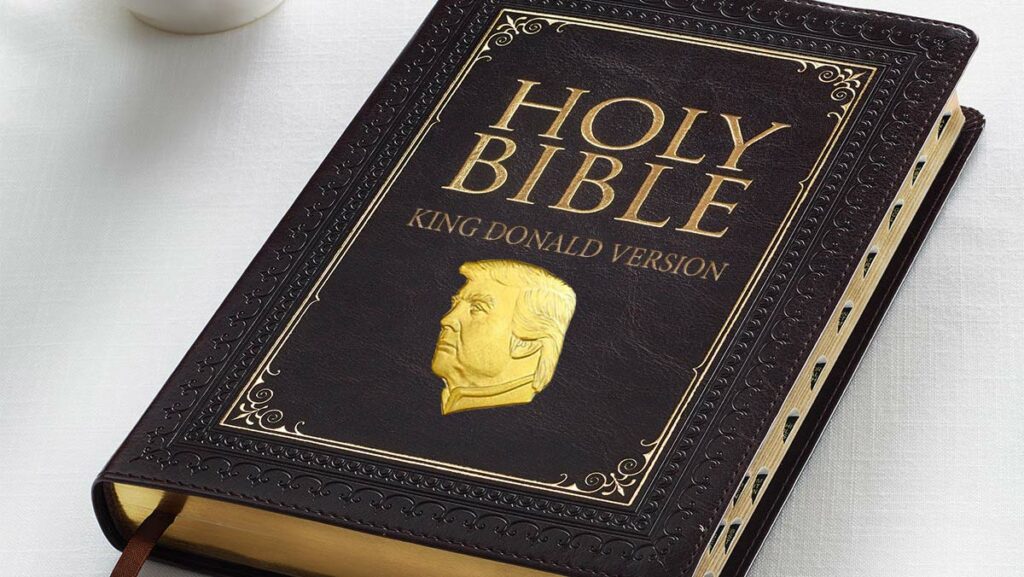 Several churches across the United States are upgrading to a new Bible translation published by President Trump dubbed the 'King Donald Version'.
The translation is seen as a much needed update from the 1611 KJV Bible, which contained controversial passages condemning adultery and has nothing about God blessing you with a lot of money if you believe in yourself.
"The King Donald Version clears up several confusing verses," publisher Brett Harresee said. "We struck the Seventh Commandment about adultery right out and added the Prosperity Gospel in between Mark and Luke."
The new version is being hailed as the only reliable translation of God's Word.
President Trump described the translation. "It's really the best Bible. I have the best Bible, period. Everyone knows it's the best. It's the best."
"I just knew that when he ran for President that all our prayers were answered. His Bible is proof of that," Clarita Smith of Little Rock Baptist Church said.
Other additions include Jesus's plea to Zaccheus to continue tax collection but at a slightly different rate and switching the woman at the well with five husbands with a businessman with five wives.
St. Paul's Second Letter to the Corinthians was also changed to "Two Corinthians" about two friends in Corinth.

About Author