NFL to replace first half of 2020 games with live performance of Hamilton the musical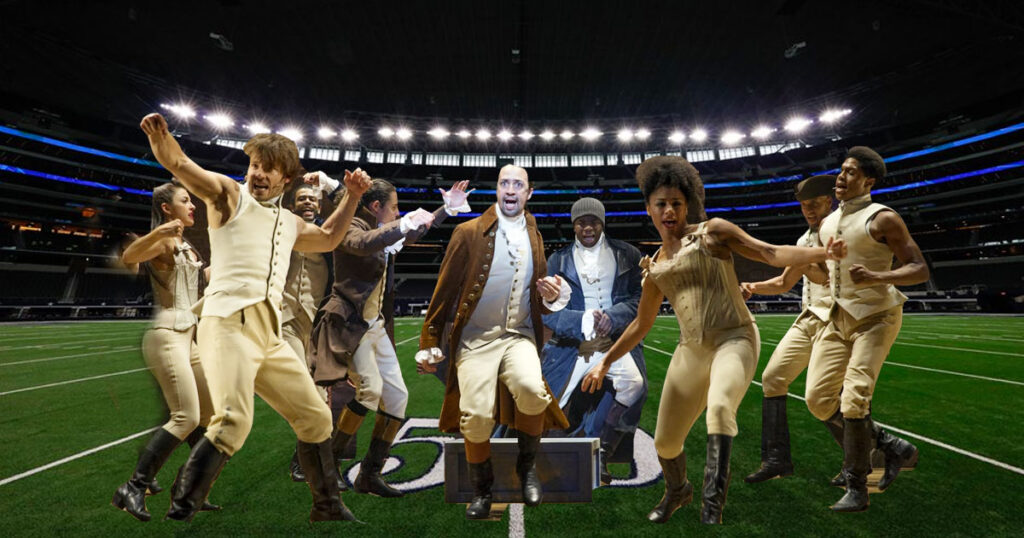 The NFL, in its latest step amid the national unrest and protests since the May 25 death of George Floyd, also plans to replace the first half of every game in the 2020 season with a live performance of Hamilton the musical.
Hamilton: An American Musical is a musical with music, lyrics, and book by Lin-Manuel Miranda. It tells the story of American Founding Father Alexander Hamilton. Inspired by the 2004 biography Alexander Hamilton by Ron Chernow, the show's music draws heavily from hip hop, as well as R&B, pop, soul, and traditional-style show tunes; the show also casts non-white actors as the Founding Fathers and other historical figures.
"We understand that people don't really care about football when they watch the NFL. They want to see racial justice," NFL Commissioner Roger Goodell said. "So, we're scrapping the first half of all the games and going to present a really great musical about the founding of the country that replaces white people with African Americans. It's really great."
The league has been working with players to identify methods of recognizing victims of racism and police violence, the person familiar with the discussions said. The NFL Players Association also is involved in the deliberations, in their spare time not defending domestic abuse cases by players.
Fan reaction has been underwhelming.
"I want to see a game of football, not some sissy boys in tights prancing around the field making loud noises!" Markie Mark of Kansas City said.