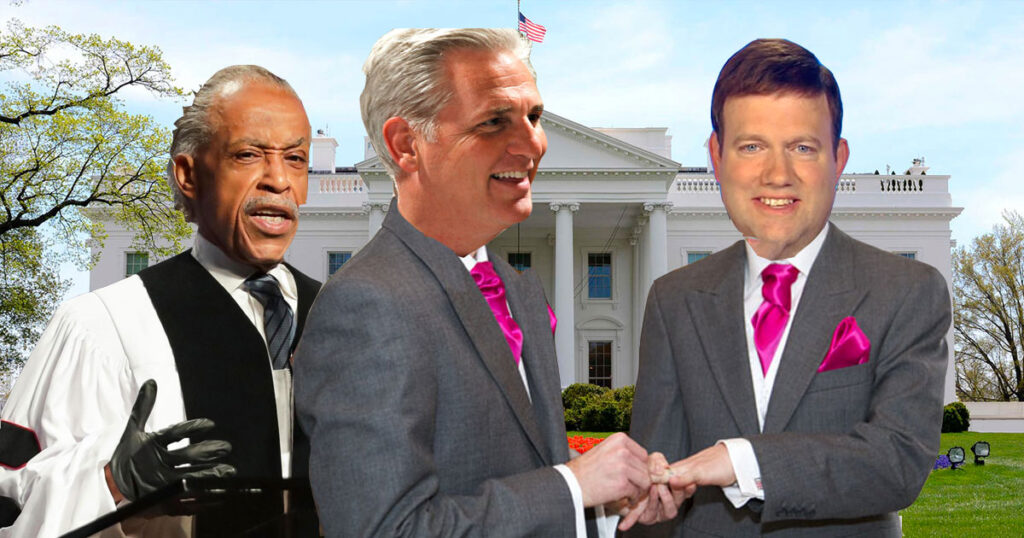 The leadership of the Grand Ole Party continues to ignore the election success of conservatives like Donald Trump and Florida Governor Ron DeSantis. A recent example is how GOP Leadership had Google Lobbyist, leftist pollster, and all around useless propagandist Frank Luntz as their guest speaker at an April 2021 Strategy Session in Orlando.
United States Congress GOP House Leader Kevin McCarthy of California's 23rd district, has already helped the Frank Luntz agenda in making sure things like Planned Parenthood get funded and doing nothing regarding the power of purse on unconstitutional bureaucrats. McCarthy admitted Tuesday that he rented a room for "a couple of months" from the GOP pollster. After a recent "focus group" done by Luntz at the overpriced Strategy session, that showed most US citizens want even more LGBTQ activity on TV, McCarthy and Luntz decided to make their relationship even more serious.
Congressman Kevin McCarthy and RINO pollster Frank Luntz will be wed in Washington DC on May 15th on the White House Lawn. Reverend Al Sharpton will officiate the wedding after he gets his check for his latest race hustle operation regarding Andrew Brown Jr. Joe Biden wanted to be the ring boy but was distracted by a piece of lumber burning at a BLM camp outside the White House fortress.
The couple had planned on going to Arkansas for their honeymoon where McCarthy could get gender reassignment surgery but are now planning to boycott the state after the failure of Asa Hutchinson to stop HB 1570, The "Save Adolescents from Experimentation (SAFE) Act" that bans gender experimentation on children.
Luntz is more than just your usually wrong, out of shape, fake non partisan media pollster. He has a scam where he uses "focus groups" to show the opinion of US voters on issues. Every one of his focus groups just so happen to oppose anything conservatives want. Luntz has made a fortune working for woke companies like Google and Purdue Pharma, which has used not to help Republicans win in battleground races against Democrats, but to redecorate his house to look like the Oval Office and Lincoln Bedroom.