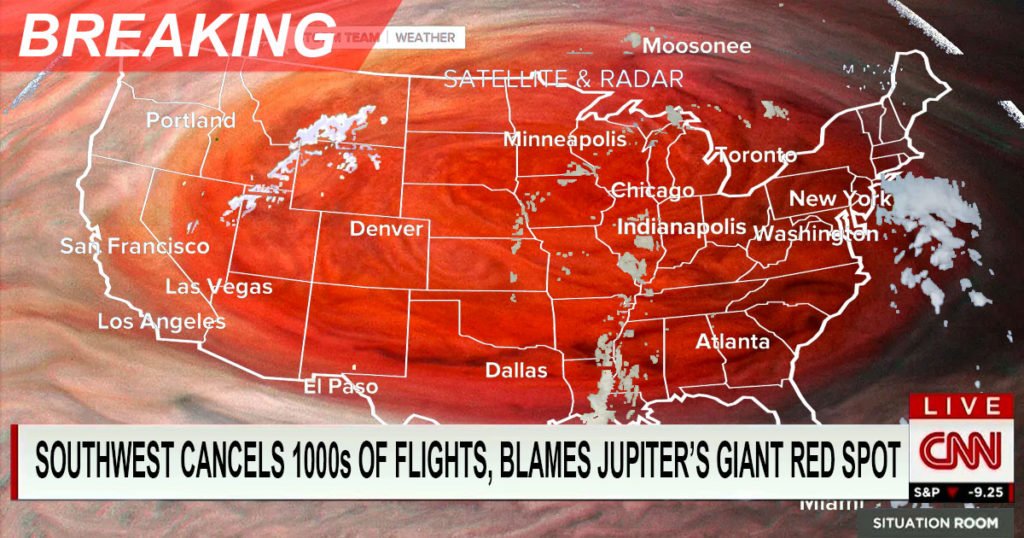 DALLAS—Southwest Airlines canceled hundreds more flights Monday after the airline was forced to ground nearly 2,000 flights over the weekend, blaming the issues on Jupiter's Giant Red Spot storm that has jumped over to the United States on Earth and is wrecking havoc everywhere.
"It's just an unprecedented storm. We really weren't prepared for a massive 500-year red storm the size of Earth to move from Jupiter to our planet. I'm sure people will understand," Southwest spokesman Jerry Jabba said.
No other airlines or weather services were reporting issues but Southwest said that the cancellations have nothing to do with thousands of pilots and staff walking off the job to protest the vaccine mandate.
The world's largest low-cost carrier canceled almost 350 flights — or one in ten scheduled departures — as of Monday at 7 a.m. ET, according to data from Flight Aware. That marks the highest cancellation rate of any major US airline by far, according to the site.
"We can't fly out there. Have you seen our weather map? It's impossible!" Jabba said.
Employees must get vaccinated before Dec. 8 or face termination. The Dallas, TX-based airline has approximately 56,000 employees.
"No, it has nothing to do with that," Jabba said. "It's definitely because of the Giant Red Spot."
The Weather Channel's Jim Cantore has been sent to Jacksonville, Florida to report on the unprecedented storm but has yet to find it.

About Author