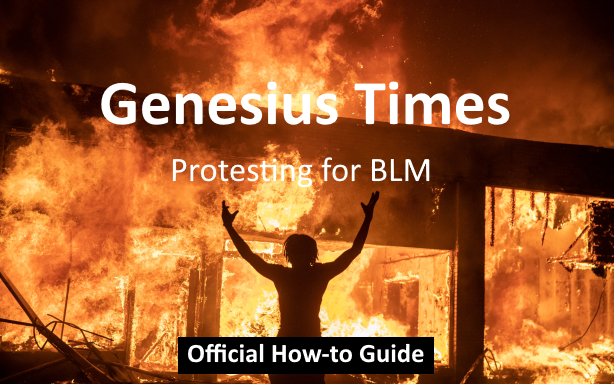 As last year's Nike's go out of style, it's time to replace them with riot protest season upon us. Genesius Times' How-to Guide will help our loyal readers get the full Black Lives Matter summer experience and all the free retail merchandise they can carry.
The Genesius Times Official BLM Protesting How-to Guide
Liberate a TV from Walmart – The best way to reform the police is by freeing a television from Walmart's capitalist greed. Pro Tip: Show up early for the biggest screens before they run out.
Smash windows – Banks, restaurants, retail stores, even apartment buildings won't mind when you break their windows. It's for a good cause; violence is fun fighting racial injustice!
Ignite the flames of racial tension – If it ain't burnin', they ain't learnin'. Set fire to any store you can find, despite them having nothing to do with your riot protest. Extra Credit for burning down a black-owned family business!
Fry 'em like bacon – When police pigs shoot execute criminals innocent POC for evading arrest walking across the street, they're assessing the threat and following training secretly doing it for sport. Time to play!
Shoot other protestors – Unless you're white, then you will become the face of BLM and the media's scorn. If you're black, go for it. BLM doesn't care about black on black crime.
Be informed – When asked why you're protesting, be prepared to explain your actions by using crime and policing statistics. If you're protesting a particular individual, be sure to understand the full story or verdict to decide if a protest is a necessary and for you. The best way make progress is with your words and facts, not by becoming violent.
Loot for a hoot – Taking merchandise from a store is great fun! Now when that store closes permanently and your neighbors are unemployed and stuck in poverty, they can thank you (and you're new kicks) for helping fight historical injustices.
And most importantly…
Have fun!

About Author