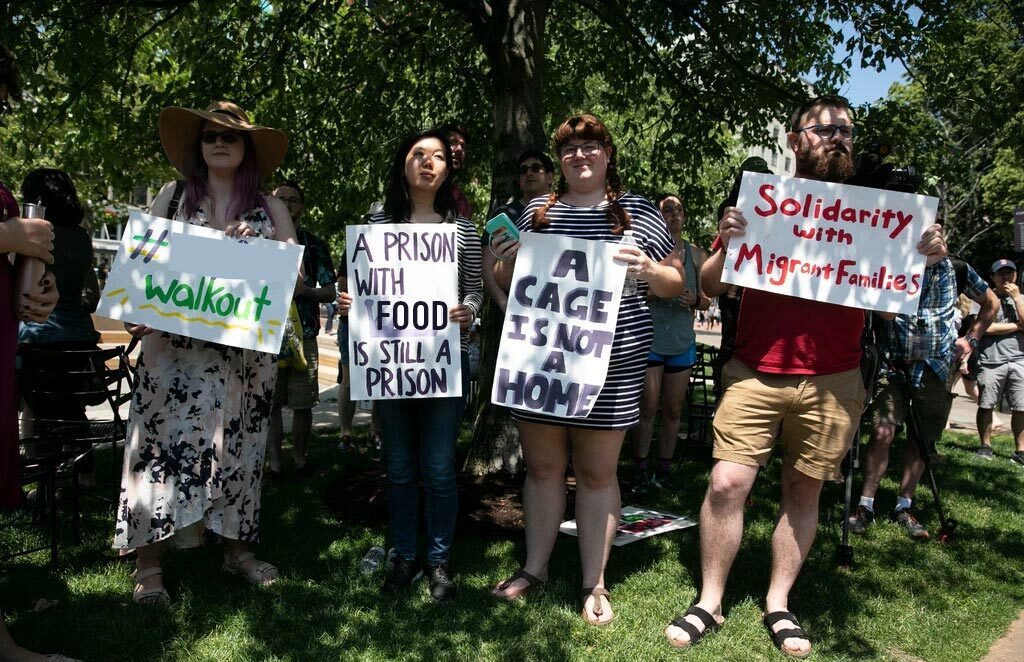 Super-woke employees at Sysco's Boston headquarters left their offices Wednesday afternoon to protest the company's sale of more than $200,000 of food to a government contractor that operates a network of the immigration concentration camps on the border. This follows Wayfair employees protesting their company's sale of beds to the center.
Protesters were seen holding signs stating, "A prison with food is still a prison," and "How dare you give them food, they're supposed to be starving!"
One protester who wished to remain anonymous said, "It's unbelievable that these fascists want to feed and treat the immigrants humanely. We're not going to let them do that because then we couldn't criticize them!"
The walkout has not led to a full-blown boycott yet, but the situation has drawn the attention of activist groups that have had some success using social media to rally consumers. Sleeping Giants, a Twitter account with 235,000 followers that was formed to choke off ad dollars to far-right groups after the 2016 election and has since become a consumer action organization, shared a tip on the Sysco orders on Tuesday.
The company sold the food on June 13 to a charity group that works as a federal contractor managing some of the camps along the southern border, according to a copy of the sales receipt obtained by Genesius Times and verified by an employee. The roughly 1,600 pounds of food are scheduled to arrive in Carrizo Springs, Texas, on Wednesday and Thursday, according to the receipt.
"It is unacceptable that these poor immigrants who traveled all this way should get food. If we can prevent them from getting food, maybe we can force a situation like the Ukrainian famine where millions of people died. That will wake up the nation to the crisis this would be if we get our way!" one protester said.
Organizers, who asked to remain anonymous for fear of retaliation by the company, have posted a copy of a letter they sent to management as well as the company's response to a Twitter account called @Foodwalkout. They are trying to pressure the company into severing its relationship with Baptist Child and Family Services, the nonprofit that placed the order and is helping to furnish the detention center.

About Author