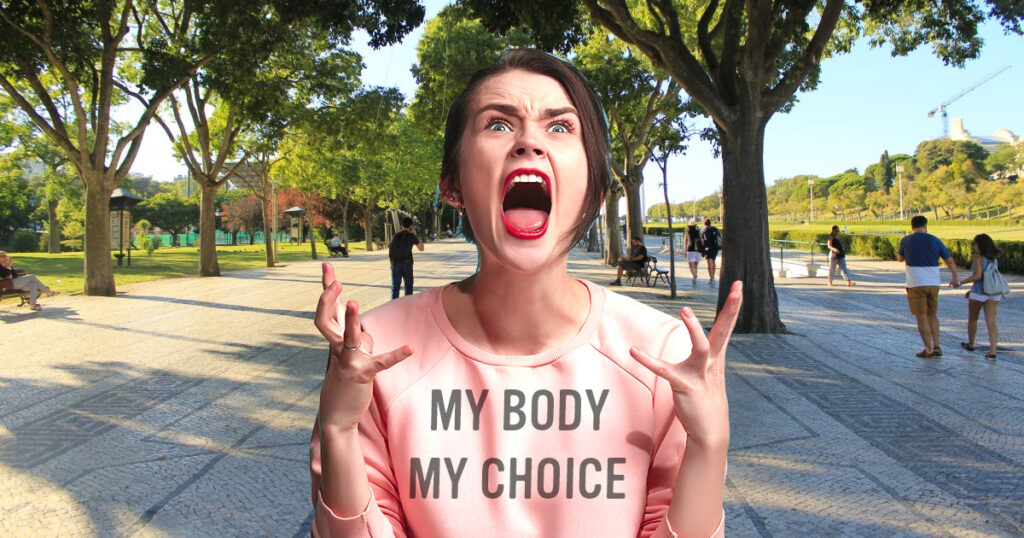 A woman with a "My Body My Choice" shirt has been stationed at a local park screaming at selfish people who carelessly risk others' lives by not wearing a mask. She was not wearing a mask.
"You are killing people by breathing out in public!" She yelled at a jogger who seemed perfectly healthy. "You selfish little brats! I can't stand you!"
The state is currently under a strict stay-at-home order during the COVID-19 pandemic.
The woman, who would only be identified by the name Karen, was clearly a big proponent of abortion rights, proudly displaying her "My Body My Choice" shirt.
"You don't have the right to be outside now! How dare you think you can just choose to walk out of your house for non-essential activity!" she yelled at a young couple pushing their toddler in a stroller.
One pedestrian asked if Karen was being hypocritical since she too was outside during the quarantine.
"You are not competent enough to understand that I am doing an essential job by being here and telling people to not be here! Ahhhhh!" she yelled.

About Author