Alyssa Milano to play Nancy Pelosi in new impeachment film: 'We Blew It'
Already has 110% rating on Rotten Tomatoes!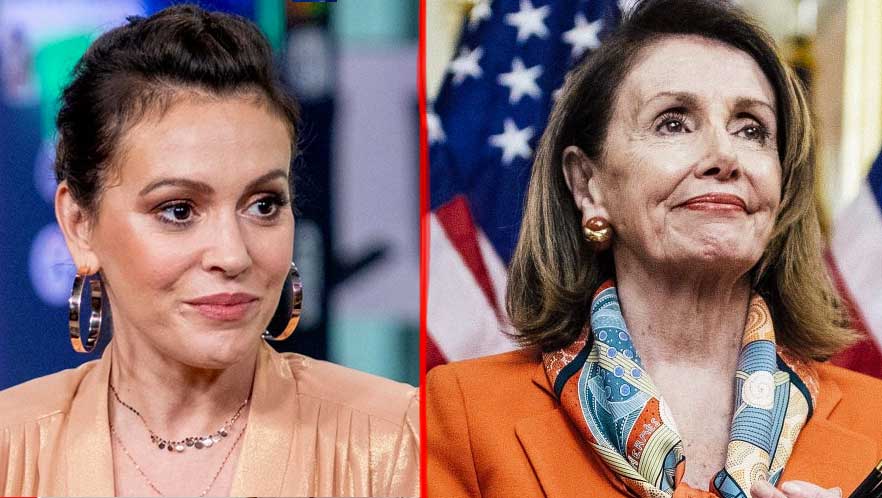 As the impeachment hearings make their way through the United States House of Representatives, more stories of parents, growing up, & other tear jerk moments are needed. Only 80% of the House Judiciary Committee's 3/2 hours of the opening remarks on December 11th, 2019 were devoted to stories such as Representative Swalwell's father fighting local corruption or Shelia Jackson Lee's poetry regarding the 400-year-old Constitution.
House Speaker Nancy Pelosi has authorized Congress for an unlimited budget on a movie to be filmed in the House Chambers. The movie is to be directed by Steven Spielberg, James Cameron, Christopher Nolan, Ridley Scott, Francis Ford Coppola, Michael Bay, George Lucas & Peter Jackson. The Impeachment movie will star Alyssa Milano, Meryl Streep, Denzel Washington, Leonardo DiCaprio, Viola Davis, Tom Hardy, Frances McDormand, Joaquin Phoenix, Amy Adams, Monica Ruiz (aka Peloton Wife), & many more! The actors will take over Congressional speeches at certain times with dramatic biographies on Democrat House members, whistleblowers, the Constitution, & reused phrases regarding government. Morgan Freeman will read the parody version of the phone transcript that was read by Adam Schiff.
Music will be done from groups of every state. States that don't have a member of congress supporting impeachment will have their musical groups reassigned. For example, since all 4 US Congressional Representatives from Arkansas have refused to support the impeachment of Donald Trump, the Arkansas Symphony Orchestra and Arkansas Choral Society will provide vocals for when Adam Schiff appears from a bunker in Area 51 to take part in the full House impeachment hearings. CGI will be used to make Nancy Pelosi's face look human while security will be provided by the 2 guards who fell asleep when Epstein didn't kill himself.
Interruptions to the live action movie from things like Hunter Biden's crony Burisma job, statements from the actual transcript, any Ukrainian leader statement that there was no quid pro quo, etc. will be edited out before release into theaters. The project is expected to cost $1.2 trillion after marketing and other expenses.