Amy Coney Barrett makes cover of Jurist Magazine Swimsuit Edition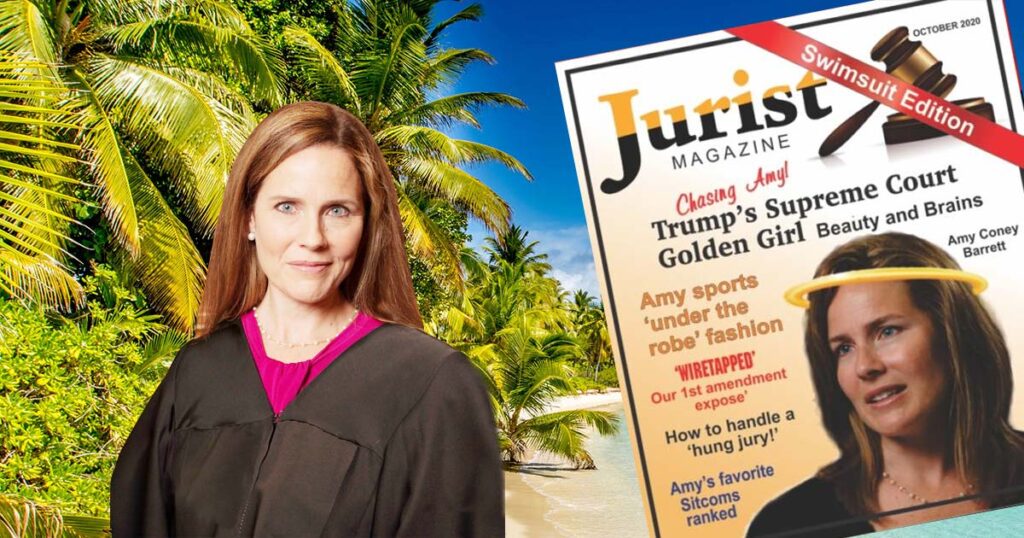 Jurist magazine 'puts out' their inaugural, ground breaking, first ever 'Swimsuit Edition'. Editor, I. B. Foreman explains, "Judges have always been seen as these staid, blustery types but jurists like Tanya Acker, Pat DiMango and even to some extent Judge Judy have tamped that image. Well, we have decided to 'hang that jury' with our first Jurist Swimsuit edition and who better to run the robe up the pole than media sensation Amy Coney Barrett.
"We are extremely excited that her centerfold showcases Jovani's newest shear robe collection, Verdictum. All seven models are district and regional court knockouts, a couple even making Trump's Supreme Court nominees list.
"Jurist spared no expense flying the whole crew to Barbados for a maximum sentence at the Hilton. Yeah, and let me not fail to mention, I love Amy's sitcom choices and believe me, that was all Amy. The crew's verdict on her is out and she is a real 'gavel banger' after cocktail hour. Party, party!
"In our no subpoenas, 'In the Chambers' interview, Amy comes clean on all the upcoming Supreme Court cases and how she is going to vote. It's a surprise, Jurist '1st amendment' expose'. We also secretly wiretapped and recorded her conversations in her hotel room with our staff 'plants' like bellhop Ricardo and bartender, Lucy Informato. I don't want to give away her views here, save that for when you buy the mag, but I can say, 'look behind you Hillary'.
"Anyways, next year's issue, we are actually contemplating judges in real swimsuits, but they probably would still be all black."

About Author