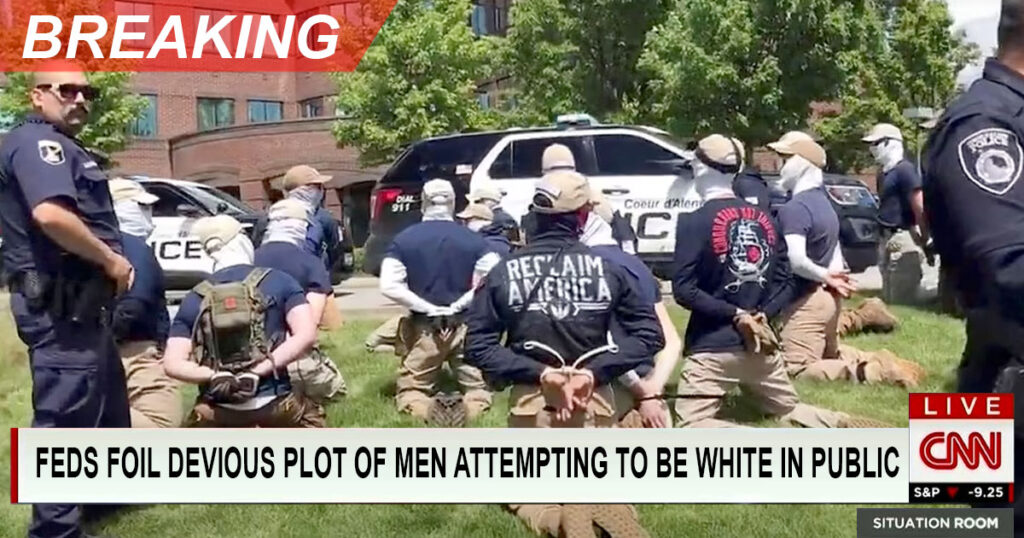 COEUR D'ALENE, ID—Federal agents with the FBI have foiled another plot of men attempting to be white in public. The agency says they were tipped off by a "concerned citizen" who was mortally wounded by seeing several white people getting into a U-haul truck.
Being white in public has been outlawed by President* Joe Biden's Department of Justice in January and the FBI has been cracking down ever since.
"We caught them before they could do any harm but it was evident from their gear that they were going to attempt to be white at a public Pride parade," Agent Jack Ace said.
The men, who are all straight too, will be held with the other political prisoners of the Biden regime until the the US Re-education Camps are completed this fall.
"It is not okay to be white in America," Ace said. "We can't have people attempting to be white in public. It's just not safe."
The feds said that if the group were to burn the town down like in a BLM riot, they would not be arrested, but they were attempting something much worse.
"We cannot allow peaceful protests by these nefarious groups. If they were to conduct a mostly peaceful attack on the city, it would be okay," Ace added.

About Author