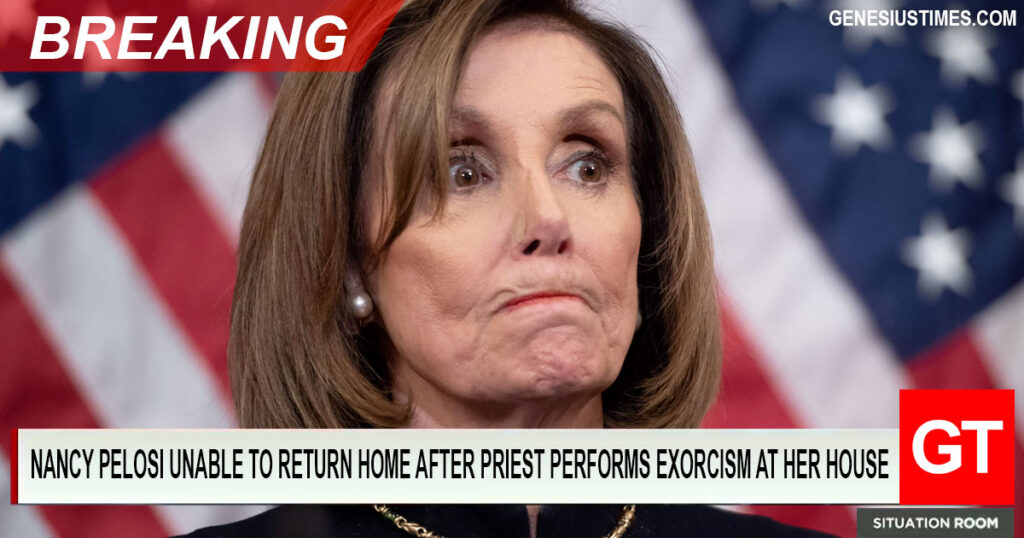 SAN FRANCISCO—In an interview with the New York Times, Rep. Nancy Pelosi (D-CA), revealed that she had a priest perform a minor exorcism on her San Francisco home following the creepy incident that took place there between her mostly-naked husband Paul and David DePape, a pot-smoking, mentally-ill, vegan, deadbeat, living in a van down by the river.
"The whole twisted incident just shook me to the core," Pelosi said.  "What are you supposed to think when your husband is found in his underwear with a homeless lunatic and a bloody hammer?  All the spin doctoring in the world can only do so much with that image.  It was really traumatic for me."
Thanks to the FBI and the Capitol Police, who coordinated with the legacy media as well as, Facebook, YouTube, and Twitter, to combat the flow of misinformation, we now know that there was nothing strange at all about Mr. Pelosi's dress or behavior at the time of the incident, and that the whole thing traces back to Donald Trump and the Republicans.
In a twist of irony, Ms. Pelosi has been unable to re-enter her home since the exorcism was performed. When asked to comment on the situation, a spokesperson for the Archdiocese of San Francisco offered an official response in Latin, the Catholic Church's language of record, saying, "Res ipsa loquitur."

About Author