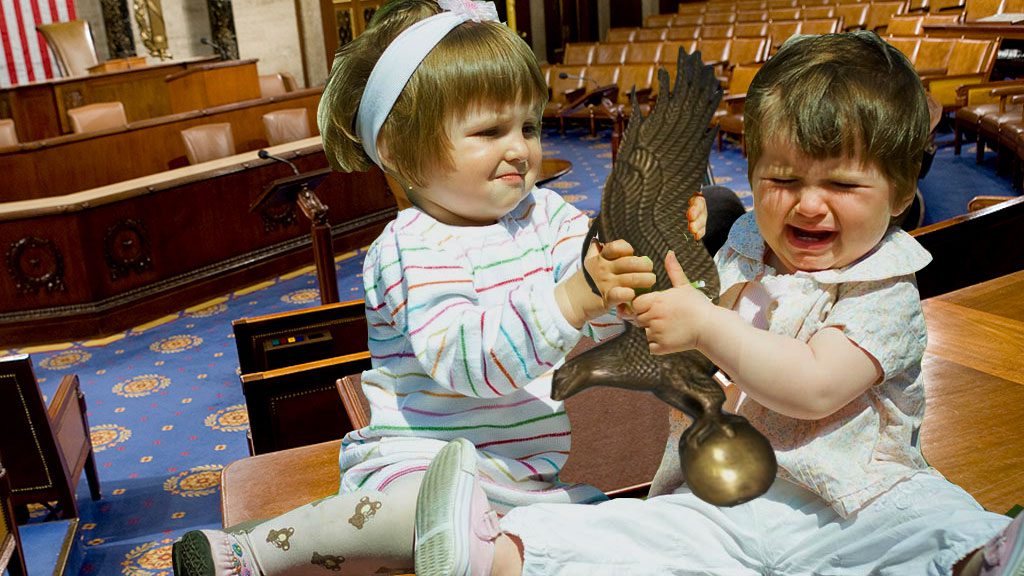 Unbeknownst to the American public at large, all federal elected officials have been replaced with actual toddlers during the government shutdown.
"When Nancy Pelosi cancelled the President's State of the Union Address and President Trump took away Pelosi's multi-country trip around the world, I thought, hey that's pretty petty, but then I learned that they were replaced with literal toddlers, so it make much more sense," John Strauss of Hartford, Pennsylvania said.
An insider familiar with the story said under condition of anonymity, "You get what you pay for. And since the government is shut down, toddlers are about all you can get."
The toddler representative for Donald Trump said, "But she started it!"
Nancy Pelosi's toddler representative was seen running around the US Capitol with the brass Eagle from the Oval Office. When asked if she could explain the policy to replace all elected officials, she said excitedly, "I pooped today!"
Chuck Schumer's toddler representative was seen crying on the Senate chamber floor. Witnesses said that he had been demanding for a Lego wall toy for some time and when Trump's toddler representative gave it to him, he suddenly didn't want it and started crying hysterically.
This story is ongoing.

About Author