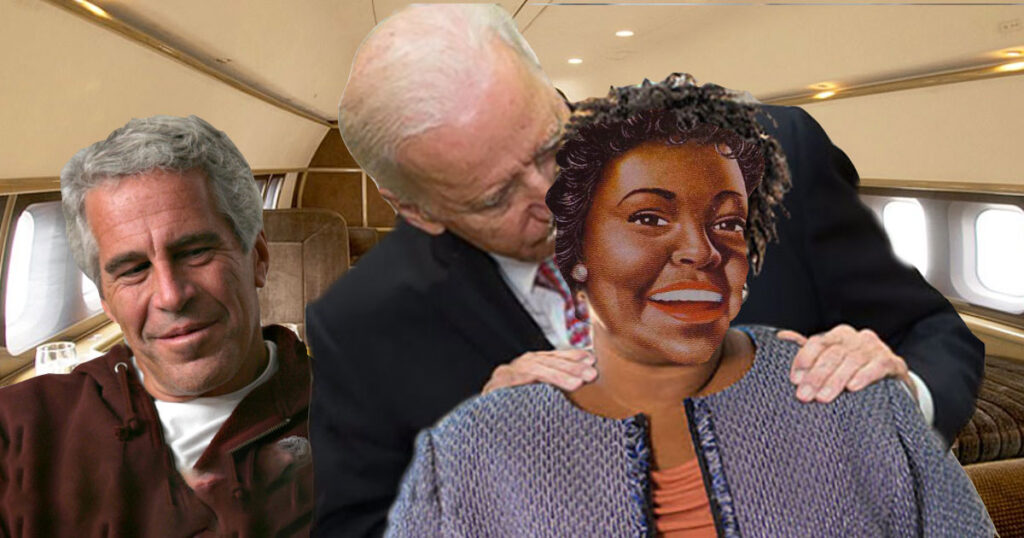 Genesius Times has obtained exclusive photos of presumptive Democratic presidential nominee Joe Biden assaulting Aunt Jemima on Jeffrey Epstein's Lolita Express.
It seems abundantly clear why we haven't seen Uncle Joe recently. Many thought he may have been suicided by the Clinton Foundation and that all appearances were actually holograms with glitches. That would explain a lot.
When Dr. Jill Biden was recently asked about his whereabouts she explained, "My husband has been busy doing research. He has such amazing concentration abilities that when he disappears for a few days he always comes home with new strategies for running the country. He actually comes up with stuff we've never heard of before. He's one of the last remaining geniuses of the 21st Century."
Dr. Biden continues, "And when he returns he always seems incredibly happy. No, not regular happy, like crazy happy. And for some reason, which I really can't explain, he's usually 3-5 pounds heavier and smells like pancake syrup. Now when I'm doing laundry, especially his undies, there's pancake syrup everywhere. There's other sticky stuff there too but since I wear gloves, a mask and a Burka at home I haven't been able to put my finger on it. This is why we've called in Comey, Strozk, Brennan and the whole FBI sleezeba…..uh Department."
Pundits seem to be having a field day with these newly discovered photos. They want to know why he and his newly acquired paramour are not wearing masks. Mrs. Butterworth has been repeatedly calling demanding 'equal time'.
Aunt Jemima has fallen on hard times after racial justice warriors have demanded that she be hidden from the public eye. She was replaced with Aunt Karen on the food packaging.
The Biden campaign claims the photo has been Photoshopped but of course we know better. Has Joe ever looked happier? Can he ever return to his whitebread wife? Stay tuned as we endeavor to answer those burning questions for our loyal GT readers.